Don't forget about the
railroads
Three railroads that transport most of our
coal

112% average gains since 1999
Are you sick of hearing about a double-dip recession
yet? There seems to be a consensus that the recession is back, or almost
back – and although I do so without relish, I happen to agree.
It's this kind of investment atmosphere that makes me
want to crawl back to the basics. And nothing is more basic and important
than coal. In the United States we get about half of our electricity
generation from coal. China, the #1 largest consumer of coal gets about
70% of its electricity from coal.
Every time I
mention coal, my wife inevitably gets a phone call from my father-in-law
Ron, telling her to remind me, "Don't forget about the railroads."
And he's right, the railroads are vital to transport
coal from mines to population centers.
According to the Energy
Information Administration the railroads account for 64% of all
domestic coal shipments in the U.S.
I don't know how bad this double dip recession will be,
or how long the secular bear market will continue – but I'm sure that no
matter how bad or long, we will continue to use coal to generate
electricity AND that trains will transport that coal. The best part is,
even if I'm wrong, and we're not entering a double-dip recession, and the
12 year secular bear market is over – we'll probably use even more
coal!
And to take advantage of this rock-solid trend, there
are only three companies you need to think about.
That's because only three publicly traded railroads
supply the majority of coal transportation in the United States.
If you live on the East coast, you can be fairly sure
that the coal currently keeping your lights on gets delivered by one of
two railroads: CSX Transportation (NYSE: CSX) or Norfolk
Southern Corp. (NYSE: NSC).
Most West coast coal gets moved by either Union Pacific
(NYSE: UNP) or recent Warren Buffett acquisition
Burlington Northern Santa Fe, which is no longer publicly traded.
These three railroads have been bear market super-stars,
and I don't expect that to change anytime soon. The chart below shows the
gains made for all three companies vs. the S&P 500 from January 1999
to today: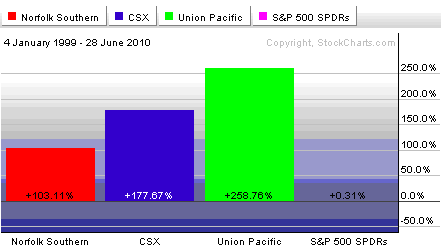 I have to admit, even I was a little shocked at how well
these boring large-cap grey-chip companies seem to have the gains of
high-growth micro-caps. That's an average gain of 112% for these three
companies, compared to…zero for the broad market since January of
1999.
So these companies obviously have a great deal of value.
They provide the majority of coal used for electricity generation in this
country. That's tough to quantify. All three of these companies trade
between 17-19 times trailing earnings, so they're not extraordinarily
cheap, nor are they extremely expensive.
Benjamin Graham always talked about how he didn't like
to pay more than 16 times earnings. The good news is that projected
forward PE for all of these companies is in the mid-12 range.
If you're interested in owning these companies (and you
should be) I'd look to build a position slowly by averaging in, as
always.
Union Pacific is the largest of these companies with a
market cap of just under $45 billion. The stock currently sells for about
$72.60, and I'd look for any opportunity to buy this company under $70.
If it gets whacked during the double dip, I'd gladly buy more under $60.
This company pays a 1.8% dividend.
Norfolk Southern has a market
cap of $20 billion, and currently sells for around $55. The company is a
screaming buy under $50, but could dip below $40 on broad market
weakness. It pays a 2.4% dividend right now.
CSX's market cap is a hair under $20 billion right now,
and the stock is selling for about $51. Load up if shares drop below $45.
The company also pays a 1.8% dividend.
I really like these companies as long term plays on coal
demand. Coal isn't going anywhere, and neither are these companies. They
all have double-digit profit margins – meaning they have a good cushion
of profitability if the economy gets bad. They can lower prices and still
make money. And since they're essentially monopolies on coal
transportation, they can probably raise prices pretty easily as
well.
I've run out of room in today's issue, but if you're
interested in learning about a Chinese coal company that's ideally
situated in China's centuries old "silk road" region, you can
click here to read a full write up.
Good investing,
Kevin McElroy
Editor
Resource Prospector