At the beginning of 2012, I wrote about Freeport McMoran (NYSE: FCX), calling it my favorite stock of the year.
"It's the biggest copper miner in the world.
It owns the mining rights to three of the world's largest copper mines – one in Utah, one in Indonesia and one in South America.
According to the 2011 Forbes 2000 list, Freeport is the also the highest ranked gold mining company.
Forbes ranks companies based on sales, profits, assets and market value – so Freeport beat out market favorites like Gold Corp (NYSE: GG), Barrick Gold (NYSE: ABX) and Newmont Gold (NYSE: NEM).
Even better: Freeport currently trades for less than 10 times earnings, and they pay a 2.2% annual yield.
Even for a big boring mining company, 10 times earnings is cheap. The entire sector is cheap now too – with the average PE ratio just above 10."
Afterwards, FCX jumped nearly 20%, from $39 a share to $46.
But today, it's back down to $37.
Typically, this company trades pretty closely with the broad market. It's a huge multi-national corporation, it's in the S&P 500 and being that it's the largest copper miner, it tends to rise and fall with the general market.
But right now, it's completely decoupled from the broad trend: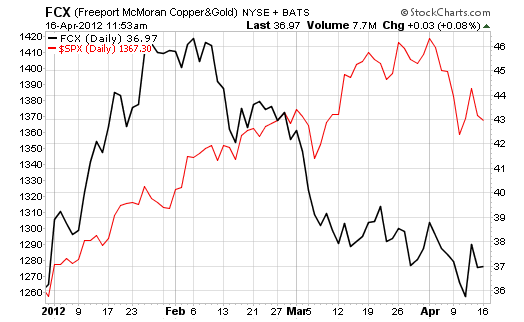 In part, that's because copper prices have taken a bit of a breather since mid February. You can see how FCX reacts pretty severely to even slightly lower copper prices: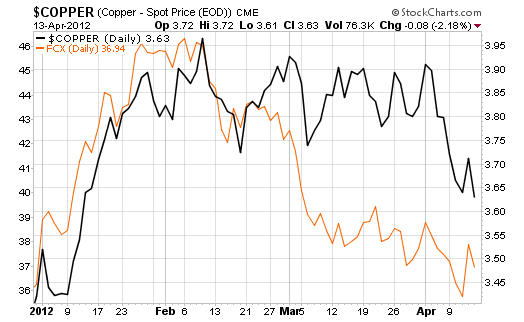 And FCX earnings growth has not been stellar over the last year or so.
But I'm not concerned. The world will continue to use copper, and FCX will continue to mine it and sell it.
Right now, the company sells for close to 7 times earnings. That's super cheap. And it pays a better-than-10-year-Treasury dividend of about 3.4% annual yield.
If you're looking for a safe company in the commodity sector, I think you'll be handsomely rewarded over the long term if you buy shares of Freeport-McMoran today.
Take a look for yourself.
Good investing,
Kevin McElroy
Editor
Resource Prospector