I was wrong

But I'm still right

The 7.7% dividend you just
missed
I've been waiting for the
Energy Information Administration to release their updated natural gas
estimates. I thought – as did many other
analysts – that their new methods for gathering those estimates would reveal
less natural gas supply.
I got it
wrong. But instead of trying to smooth
it over, or denying the obvious, it's much better for our reader-writer
relationship if I come clean.
The EIA's numbers released
this morning show that supply increased 1.6% from January to February.
Obviously, this news is the
exact opposite of what I predicted would happen – and in some ways it's the
opposite of what the market expected. Natural gas futures immediately fell over 8% – down to $3.96 per
thousand cubic feet from $4.30 levels earlier this week.
So I was
obviously wrong about my prediction for the EIA numbers – but the important
thing is that I'm still confident about the long-term bullish trend for the
price of natural gas. Infact though futures are down 8% natural Gas Stocks are
up across the board.
And if you bought natural
gas companies on my recommendation at any point this month, you bought NEAR 12
month lows. That I wasn't able to
pinpoint an exact bottom, and that my prediction didn't come true shows that
timing a bottom can be tricky.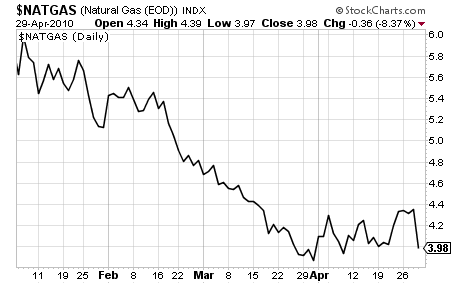 It also highlights the
importance of averaging into any position – even one that you're super excited
and bullish about. And more to the
point, this kind of price head-fake makes income producing natural gas
investments all the more vital. It's
easy to average into a position and be patiently waiting for capital gains when
you're getting a quarterly check. And
with natural gas prices STILL near their 12 month lows there are literally a
dozen or so high-income producing natural gas companies.
Their stock prices have been
beaten down for two years, but their dividend yield has stayed the same. These companies, even with prices near their
historic all-time lows, are still profitable!
That's good news. My favorite natural gas company had a 12%
profit margin for fiscal year 2009. That
was a period of time when natural gas prices fluctuated between $6 and $2.50. If they can hang on during a rough stretch
like that, they're the kind of company you want to own before prices rise.
I believe prices WILL rise
in the next few months. Some energy
analysts think they could double by September. I could be wrong. We could all be
wrong in the short term.
But the
fact remains that natural gas is still super cheap. Whether you buy into this trend today, last
week or a month from now, you're getting in early. Too early is better than too late, especially
if you're collecting a 7.7% dividend while you wait.
If you want to buy a cheap
commodity stock and collect a 7.7% dividend, you just missed your chance. My favorite natural gas company just went
ex-dividend for this quarter. Of course
I still think this company is a great buy, but if you want to collect the
dividend, you'll have to wait another 3 months for the next one. Click here now to read my brief on this
company and find out how you can get on board for the next dividend.
I hope some of you took my
advice and will collect this dividend, but I'm also hoping that I can convince
a few more of you to start building a position in natural gas. The fact that I was wrong on the timing means
that it's not too late.
Kevin McElroy
Editor
Resource Prospector