How a Government Agency will
help natural gas prices rise
A Texas Wildcatter Agrees
A 7.9% dividend from natural
gas
Happy Friday!
I set a
timer on my laptop calendar to go off today, because I had to remind myself of
important news from the Energy Information Administration
coming out in exactly one week.
If you read
my April
6 issue of the Resource Prospector a few weeks ago, you know what I'm
talking about.
From
that issue:
"On April 30, the EIA is scheduled to release its
natural-gas monthly report for February. In the report, the agency will use the
new methods to estimate gas supply and revise its January numbers."
I believe
these new methods will reveal significantly lower natural gas reserves than the
marketplace currently expects. And more
importantly, I believe this news will move natural gas prices much higher in
the near future.
And while
I'm content with my analysis, sometimes it's nice to get some support from
another contrarian viewpoint.
So I was
excited to read that a Texas
oilman with 55 years in the business named Henry Groppe is saying the same
thing. From an April 21st story in the
Canadian newspaper The
Globe and Mail:
"Mr. Groppe – the octogenarian patriarch of Texas
petroleum industry analysts Groppe Long & Littell – doesn't buy the
prevailing wisdom that New York Mercantile Exchange natural gas prices are dead
in the water, stuck around $4 to $5 (U.S.) per million British thermal units
even as demand recovers, awash in supplies and with much more on the way.
No, his analysis (and more than 50 years of experience)
tells him that gas inventories are about to get a lot tighter, that new supplies
are overstated, and that prices are headed north of $8 by the end of summer."
I don't know if prices will
scratch above $8 in the next few months, but I do expect higher prices, and I
believe the news from the EIA in one week will be the catalyst.
With prices hovering in an
extremely tight trading range between $4 and $4.20 for the past month it seems
like natural gas is in a period of consolidation.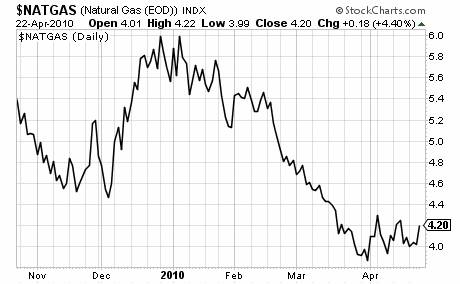 The market is waiting to
see what will happen with the EIA's report – but if you want to capture the
biggest gains, you'd do best to buy natural gas companies BEFORE they release
their findings.
What's the best way to do
so right now?
It just so happens
that there's a natural gas company in our Small
Cap Investor Pro portfolio that's perfectly poised to benefit from much
higher prices.
It's a
cash-rich domestic energy company that pays out a hefty 7.9% dividend. It's never
lowered its dividend pay-out and it has never missed a pay-out, even during the
worst of the recession. This is the kind of bedrock stock that should be in
every investor's portfolio.
My
colleague Ian Wyatt, editor of Small Cap Investor PRO, first brought it to his
readers back in late July. He's been going in and out of it for maximum
profits. Subscribers to his service have seen the share price rise nearly 70%
since then, and collected checks at each quarterly pay-out.
It's about
to pay-out again, in early May. But there's a catch, you need to be a
shareholder of record by May 3rd at the latest. Now you might be thinking that
gives you a long time, but not really.
I know that
once you read through Ian's research on this firm you're going to want to do
your own research (you do your own research, too, right?) and see how it fits
into your portfolio. It's the kind of stock that can help take your portfolio
from averaging with the market to outperforming the market, plus there's the
juicy quarterly dividend that blows the doors of anything GE, P&G, IBM, ExxonMobil–or any of the stalwarts of
dividend stocks–can ever pay you. Plus, unlike this energy stock, they'll
never launch 70% in well under a year.
If you're
excited about the trend in natural gas, I'd recommend buying this company
BEFORE the EIA releases their report on April 30th. That way, you get any upside benefit from
their findings, as well as the 7.9% dividend.
The report about
this dividend is available now and there's a special offer for investors who
try out Ian's service and claim their copy.
Have a good weekend,
Kevin McElroy
Editor
Resource Prospector