Every month I send my single favorite commodity investment idea to a tiny group of Resource Prospector subscribers – folks who belong to a research service I call Resource Prospector Pro.
And this month, I'm finally dipping a toe into natural gas.
If you've invested in natural gas at nearly any point in the last 10 years, then you've probably lost money.
So why now?
Well, take a look at a 21 year chart of American natural gas prices: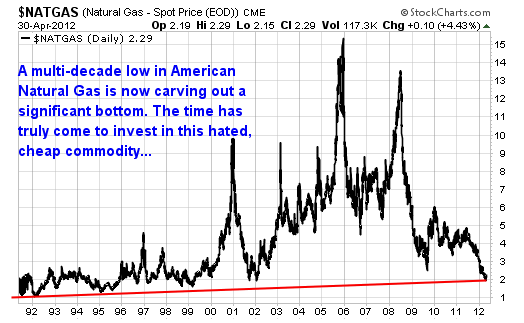 We're at the very bottom of a long-term support line for natural gas.
Can prices get lower? Of course. But I'd guess that about 98% of the risk has been sucked out at this point. And with the right company, we're looking at the potential for very substantial profits.
I think anyone reading this article right now probably realizes that they SHOULD be on the lookout for cheap natural gas companies.
But most people won't buy right now. That's the nature of the beginning of every bull market in world history. Most people don't buy until prices skyrocket. Then they buy in hopes of replicating gains that have already happened.
If you're one of the VERY few people who are looking to buy a natural gas company right now, then I urge you to take a look at my next issue of Resource Prospector Pro – which will be published tomorrow, May 1, 2012.
I truly believe the opportunity we now see in natural gas will, in retrospect, appear to be a complete no-brainer. Right now, it's tough to be one of the first investors in this hated and cheap commodity. But I don't' think you'll be disappointed.
Take a look at the details on how to receive my next issue on natural gas by clicking here now.