Time heals all wounds. So it is that nuclear energy is back in vogue less than two years since the Fukushima power-plant disaster.
Japanese prime minister Shinzo Abe loosened the country's post-tsunami stance against nuclear energy, saying he would be open to having new nuclear reactors built. The Japanese government had previously vowed to shut down the country's 50 working reactors by 2040.
Other new reactors are being built in places like China, Russia, India, South Korea and the UAE in the coming years. Worldwide, 65 nuclear plants are currently under construction, and another 160 are in the planning stages. All told, more reactors are being planned now than before Fukushima.
The recovering post-Fukushima demand for nuclear energy is good news for uranium prices – and uranium stocks.
Uranium is a metal extracted from the Earth's crust and used to produce nuclear energy. And right now, this bit of rare earth is cheap. At roughly $42 per pound, uranium is about as cheap as it's been in the last three years. With more nuclear plants coming online, that means global demand for uranium is on the rise.
Perhaps the best way to play the impending uranium rally is to buy uranium stocks – one in particular.
Cameco (NYSE: CCJ) – a favorite of my colleague Kevin McElroy – is probably the best place to start. It's one of the largest uranium producers in the world – and it appears the stock is already starting to rally.
Six weeks ago, Kevin wrote that it was time to buy Cameco, which was selling near three-year lows at less than $20 a share. Since then, the stock has risen 10.5%.
But that doesn't mean you've missed the boat. Take a look at this two-year chart of CCJ – and note the drop-off that occurred after the nuclear disaster in Fukushima in March 2011: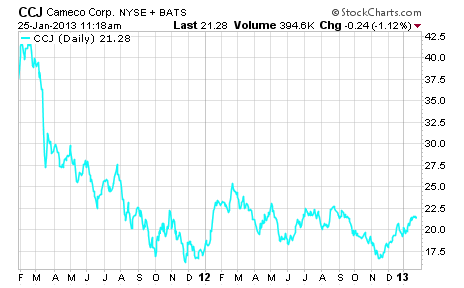 The stock is still trading for roughly half its pre power-plant spill price. It's still relatively cheap on a price-to-earnings basis, with a forward PE of 15.4. As demand for nuclear energy returns, premier uranium producers like Cameco should benefit.
Other uranium stocks, such as Rio Tinto (NYSE: RIO) and Paladin Energy (OTCM: PALAF), are also trading at relative discounts. But each comes equipped with a major caveat.
For Rio Tinto, uranium is just one of the many natural resources the $100 billion company mines, and could still struggle even while its uranium business flourishes. And Paladin Energy is a penny stock trading on the over-the-counter market. Those types of stocks are always risky investments.
So if you're looking for the best pure play on the expected uranium boom, buying CCJ shares is likely the way to go.
Look, no one has forgotten the horrors of what happened at the Fukushima nuclear plant less than two years ago – nor will they ever. But the initial hand-wringing has subsided, and people are again realizing that they still need nuclear power – even in Japan.
With large emerging markets like China, India and Russia ramping up their nuclear power projects, uranium prices could soon return pre-Fukushima levels.
My #1 Strategy for Earning 10% a Month
A FULL VIDEO REPLAY of my latest webinar is now available! If you missed my latest webinar, "Iron Condors 101." I've posted a free video replay of my 60+ minute presentation. Follow the link below to watch and you'll discover how you can consistently earn 10% a month… even in flat markets… using risk-controlled Iron Condor trades. You'll find out which indexes are best for Iron Condors and how you should allocate your portfolio to this strategy. And you'll receive free action-specific trades you can execute immediately — for gains you can earn in as little as 9 days! Clickhere to watch this video replay now.