Wait for it…

25 per cent gains in less than two
months
When and at what price you should buy this
stock
I've been on quite a tear writing about gold and silver of
late. That's not because I think you should run out and buy these precious
metals right now. In fact, I think you should wait.
Wait for what I
believe will be a substantial correction, and therefore, a buying opportunity
for physical gold and silver next month when Ben Bernanke announces his plans
for Quantitative Easing.
I'd look for a 5-10% correction following his announcement
as a great time to make some purchases.
In the meantime, there's a specific stock opportunity that's
shaping up nicely.
On September 1, 2010 I urged you to buy shares of
Freeport McMoran (NYSE: FCX) under $80 a
share.
Since then, we've had a hell of a ride: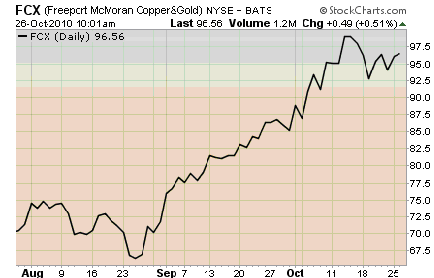 That's a solid 25%
gain if you took my advice.
There's some good news and some bad news.
The good news is – I think you'll get another chance to buy
this stock under $80 in the coming months.
The bad news, obviously, is that this stock is going to get
pummeled in order for us to see that buying opportunity again.
And that's fine, because I never intended for this stock to
be a quick trade. I like this company as a long-term play on higher commodity
prices – in specific, higher copper, gold and silver
prices.
(If you are a short term swing trader – or you just want to
take profits, I'd think about taking at least some of your money off the
table ahead of the Federal Open Market Committee meeting next week.)


So…why could this company's shares get slaughtered?
Well, it's one of the world's largest copper producers.
Copper trades inversely with the dollar index – and though I'm certainly no
fan of the greenback's long-term prospects, it's realistic to expect that the
dollar index is due for a correction to the upside.
When it does, copper should get wacked. Why? For the simple
reason that a stronger dollar buys more copper, which is essentially the same
thing as lower copper prices.
Take a look at this 30 month chart showing the dollar index
in green and the price of copper in black: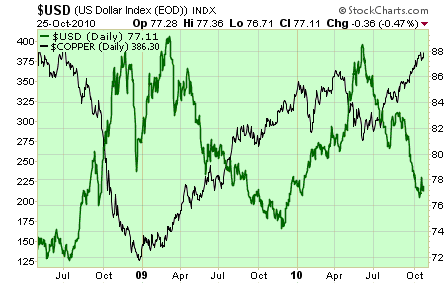 You can see how the dollar and the price of copper are
almost mirror images of each other; the dollar dropping when copper is on the
rise and visa versa.
Over the short term, Freeport McMoran tends to trade in
tandem with the price of copper. That makes sense, since it gets most of its
revenues from copper sales. So if and when the dollar index begins to rally,
I think we'll be able to buy Freeport shares at a discount to today's
prices.
This company could
certainly fly higher over the next few weeks, and my $80 share price is
definitely on the conservative side. But I don't have much tolerance for risk
right now. Buying this company under $80 gets you on board for less than 10
times trailing earnings. That's dirt cheap even for a monolithic bluish-chip
$45 billion mining company like Freeport.
I think we're going to see some excellent short term buying
opportunities in the commodity sector over the next couple months, so if you
can sit tight, be patient and wait for the right time and right buy price,
you'll be handsomely rewarded over the long term.
And if I'm wrong, and we don't see a pullback for
commodities, then I hope you at least have some winners you can let
ride.
Good investing,
Kevin McElroy
Editor
Resource Prospector
full disclosure: I have no position in NYSE: FCX as of this publication