Ed. Note – I launch my new commodity newsletter today. It costs just $5 to get all of the best commodity investments we publish here at Wyatt Research. Click here for information on how to become a charter subscriber.
Which precious metal should you buy today?
Before I get into it, I think if you're serious about getting the best price on your precious metals investments, you should be averaging in on a monthly or bi-monthly basis. If you go all in at any point along this bull market, you're not likely to get the best price. I always strive to buy gold and silver at regular intervals – dispassionately and with little regard to short-term price movements.
That being said… I believe precious metals are all strong buys.
I've received questions asking about silver. Silver seems like the intro-to precious metal for many investors because it's much cheaper per ounce than gold – but it also has the same long history as a money commodity, so people feel comfortable buying it.
And silver is well off of its highs from April of 2011, when it nearly breached the $50 mark.
Silver now sells for close to its 52 week lows.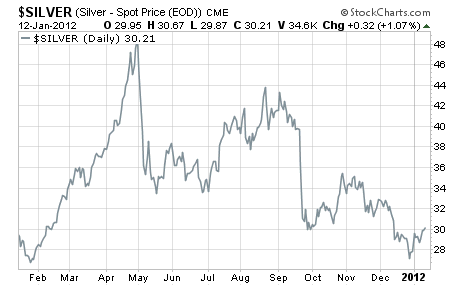 And silver recently pulled out of a 2 month-long correction, and is now in a sustained uptrend. So if you're thinking about buying silver, now is a great time.
What about gold? Gold currently sells for about as cheap as it's been over a 6 month period, and more importantly, it's started to exhibit some very bullish signs – namely, it recently broke through its 200 day moving average.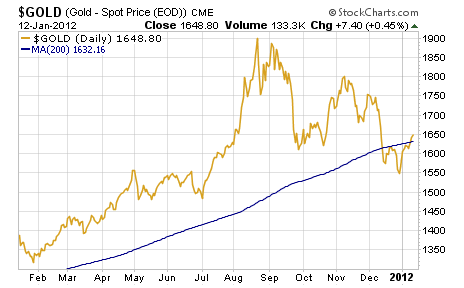 During this bull market, the 200 day moving average has rarely been broken on the downside, but when the price breaks through on the upside, we've seen some of the biggest gains of this bull market.
Don't ignore this bullish signal. If you believe (as I strongly believe) that we're not out of this recession, and that all of the bluster and "hope" from our leadership has solved exactly nothing about our massive deficits, our corrupt financial system and our unsustainable out of control government, then you should be buying gold now.
Which brings me to the third precious metal – one that I've only written about a few times over the past few years: platinum.
No one is asking about platinum.
But if you're bullish on gold, then you should be just that much more bullish about platinum. That's because platinum is 30 times rarer than gold – and for that reason, it typically sells for more than gold, as you might expect.
But for the past few months, platinum has sold for less than gold. Today, it sells for a 10% discount to gold – which is practically the biggest discount to gold in modern history.
Full disclosure: I own silver, gold and platinum – but if you put a gun to my head and asked me to buy just one of the three today, I'd buy platinum. If you're not inclined to buy physical platinum bullion, I'd recommend picking up shares of the ETFS Physical Platinum Shares ETF (NYSE: PPLT).
I own shares of this ETF. And I'm not interested in holding them for long. I plan to sell them as soon as platinum tops the price of gold.
So if you're looking for a way to profit from the precious metals bull market, consider buying platinum now, and selling when it costs more than gold.
Good investing,
Kevin McElroy
Editor
Resource Prospector Pro