In 2008, my favorite recession indicator signaled that we would head into a serious recession.
The Baltic Dry Index measures shipping rates on some of the world's most important raw goods and commodities – stuff like coal and iron ore.
And in 2008, this index plunged weeks before the financial crisis fully developed.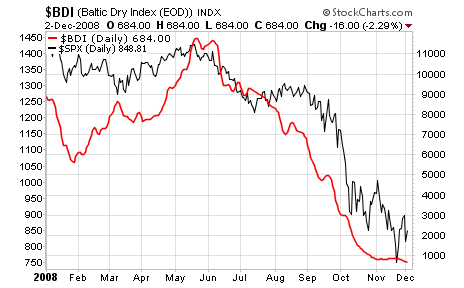 Recently, the Baltic Dry Index hit lows not seen since late 2008 – and yet, as you may have noticed, the market is definitely on the upswing.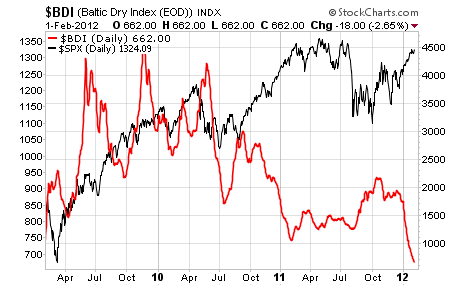 If shipping rates are so low – which would indicate shipping demand is slowing – then why is the market still churning higher?
The simple answer is that there's a glut of cargo ships. In months and years leading up to the financial crisis, record numbers of ships were built. Once the crisis hit, these ships lay dormant. But now, even with greater demand for dry goods, there's still a glut of ship supply.
A recent The New York Times story illustrates this point, saying, "As recently as six weeks ago large freighters that can carry bulk commodities like iron ore or grain were fetching charter rates of $15,000 a day. Now, brokers and owners say, the going rate is $6,000 a day. If any customers can even be found."
So demand can rise, and prices can still stay low as long as supply outstrips that demand.
And as a recession indicator, the Baltic Dry Index isn't as informative as it used to be.
But as a shipping indicator, the BDI tells me that shipping can't get much less profitable. Shipping companies will fold – or ships will throw down anchor and dock offshore.
It also tells me that there should be some shipping companies on sale right now. Shipping is a tough business to be in right now – and the margins are slim.
One shipping company that caught my eye is Diana Shipping (Nasdaq: DSX).
I wouldn't jump in with both feet, but this company currently sells for less than 6 times earnings and has low debt levels.
When shipping rates inevitably rise from these rock bottom levels, I expect significant earnings increases for Diana and other robust shipping companies that can weather the storm.
Good investing,
Kevin McElroy
Editor
Resource Prospector Pro