Something strange is happening with major gold
stocks.
I'm talking about the 16 largest publicly traded gold companies that
comprise the AMEX gold bugs index.
And no, you can't buy this index – it's not an ETF.
But it's a good measuring stick to see how gold majors perform.
And right now, they're not doing so well. The chart below plots the price
performance of gold vs. the price performance of the gold bugs index since
the beginning of 2010.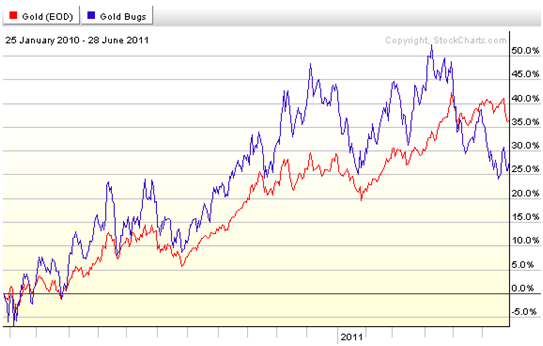 You can see how during this latest leg of the bull run in gold, that the
gold bugs have tended to outperform gains in the underlying metal.
And that makes sense. These companies have fixed costs, and when the price
of gold rises, their profits and margins rise as well. So if they make $1
per share when gold is $100, you'd expect that they would be able to make
$2 if gold hits $101. Every increase in gold's price over that $100 lets
them multiply their profits.
Obviously, it's not quite that simple – but most of these companies are
profitable at $500 gold. Why have they lagged gold for the past few
months?
There are a variety of reasons, but the main one is that institutional
investors (think mutual funds, pension funds, hedge funds) are taking
profits on their gains of these 16 gold companies.
Why are they taking profits? Who knows. They might think that the gold bull
market is long in the tooth. Or they might be covering losses from other
sectors. They might simply be rebalancing their portfolios to not be as
gold heavy. Or maybe they're selling gold stocks and buying gold. We can't
know why they're selling.
But if you're a long term gold bull, (as I am) then you should be looking
at this underperformance in the gold majors as a buying opportunity.
My colleague Jason Cimpl is taking advantage of this opportunity.
Yesterday, he released a brand new research report on the five precious
metals stocks to buy today. You can read all about this report by clicking
here now. It's called
Top 5 Gold and Silver Trades for Summer
2011.
Jason is a technical analyst by trade, and he's looking at gold and silver
on that basis. He thinks precious metals stocks will outperform for the
rest of the summer.
For me, I think that anytime you can buy the largest "blue-chip" type
companies in a given sector at a discount to their fundamental trend, you
should back up the truck. And my long term thesis is that gold and silver
will likely double or triple in price before this bull market in precious
metals is over.
So the wind is at your back, and with Jason's technical prowess, you know
you're getting a good buy price for gold.
I hope you'll take a look at Jason's research. It's the type of
to-the-point investment research that can really cut through all the noise
in the market.