I own shares of Chesapeake Energy Corporation (NYSE: CHK).
And unfortunately, I bought them at just about the highest price they traded this year – and they've done nothing but fall since.
But I'm not selling just yet.
If you own shares of Chesapeake Energy – here's what you need to know.
Chesapeake is still the largest independent natural gas producer in the United States. Exxon-Mobil (NYSE: XOM) produces more gas, but they're clearly not a pure natural gas play.
Right now, shares are getting clobbered following news of a recent $4 billion loan Chesapeake took from Goldman-Sachs (NYSE: GS), on top of another $1 billion bond offering.
The company now seems to suffer from that death-knell of indebted entities – a "cash-flow problem."
We've heard about cash-flow problems from people like Irish bankers in 2011, General Motors (NYSE: GM) and Lehman Bros circa 2008…
"Cash-flow problem" seems to be a code-word for "nearly insolvent."
But wait, there's more…
Because Aubrey McCLendon, the CEO of Chesapeake was recently asked to step down after borrowing a massive amount of money against his stake in Chesapeake.
Add it all up, and the stock has been (rightfully) slaughtered. I always expect bad news to hurt stocks over the short term.
But as I've stated many times, the average investors has a very short attention span.
So I'm not worried about how far the stock has fallen – so much as I'm worried about how likely it is that this company will recover and remain profitable.
The reason I bought Chesapeake is still intact. It's one of the biggest companies in the natural gas sector – and natural gas is still trading near all time lows.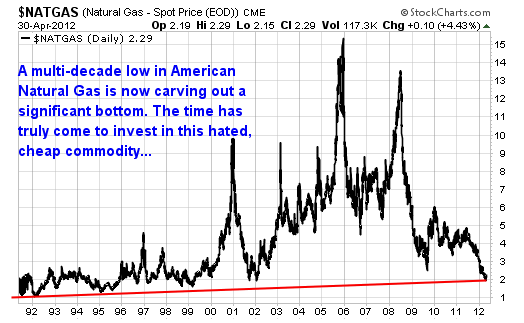 This chart explains why Chesapeake is suffering from cash-flow problems. Natural gas is so cheap that Chesapeake can't possibly profit from their current production.
That's bad for Chesapeake – as is the news about Mr. McClendon stepping down.
But that's precisely the reason you should consider buying Chesapeake. It's selling for a much better price than even many of the company's insiders were able to buy it.
Like natural gas itself, Chesapeake is cheaper than it's been in years.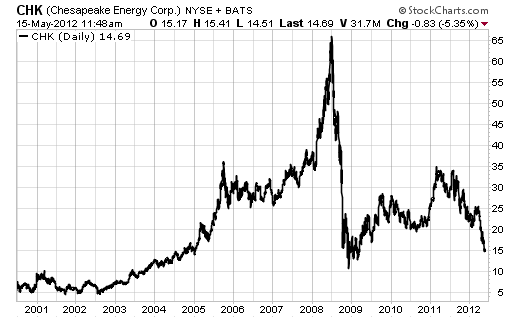 So if you consider yourself a value hunter or a contrarian – then you should see this price action as a reason to buy – not sell.
In the meantime, I'll keep you posted on my personal holdings.