Please – read this article with an open mind. In fact, open your mind as wide as it will go, because today's edition is going to require all of your mind-opening capabilities.
To assist you, I'm going to show you one chart – with the company's name blacked out so that you can reserve judgment.
Just look at this chart – and note that the company in question is now nearly as cheap as it was back in the depths of the financial crisis of 2009: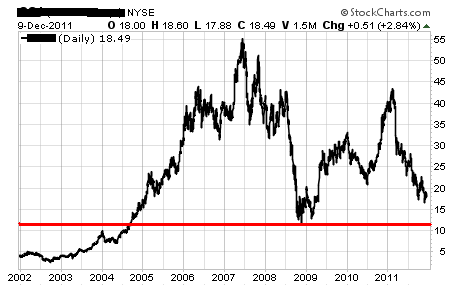 Now, before I tell you the name of this stock, you should know that it's a large cap mining company. In fact, it's the largest mining company of its kind. It provides about 16% of a key energy commodity to the world's markets, and it owns the world's largest amount of proven and probable reserves.
That means that this company is the bluest of the blue chip when it comes to this sector of the stock market.

Why is this company almost as cheap as it was during the lowest lows of the crisis?
Well, again – I want you to open your mind – this company is in possibly the most hated and/or ignored sectors of the entire stock market.
We're getting to the kinds of hated and/or ignored levels for this commodity that we previously only saw with gold in the late 1990s. I honestly think this investment could be that good. I've said it before, but I think this commodity could be the investment to own for the coming decade.
Here's another chart -this one also blacked out – to show the price of the underlying commodity: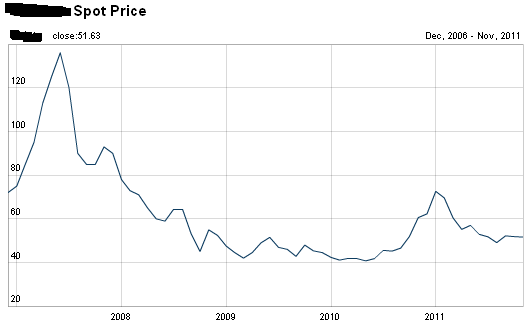 Today, this company and the commodity that this company mines are both extremely cheap.
But it's my job to tell you about the best deals in the commodity markets right now. Well, this company and this commodity are the best deal going.
If you're buying other commodities like gold, silver, oil, coal and natural gas because you believe that they're still relatively cheap, this OTHER commodity should be on your shopping list.
Okay, are you ready? I'm going to reveal this company and commodity to you. Remember, keep your mind open.
I'm talking about Cameco Corp (NYSE: CCJ). This company is the world's largest uranium miner.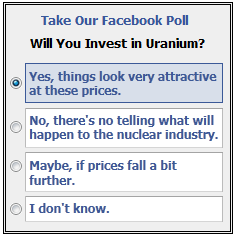 Yes. They're hated. The Fukushima disaster is still super-fresh in everyone's mind. But this company just isn't likely to get much cheaper. If you want to put in a stink bid to play it safe, I'd recommend putting in a Good-Til-Cancelled bid at $14 a share. That's a 17% discount from today's share price, and that price would be what I would call a "worst-case" price for the foreseeable future.
Cameco's profitability is closely tied to the price of uranium, and uranium prices have a floor under them. That's because there's a very long lead time for uranium consumers. It's not like you can just shut off a nuclear power plant. These plants consume a steady and reliable amount of uranium – and they consume the same amount whether uranium is $50 a pound (as it is today) or whether it's $130 a pound (as it was in 2007.)
So we know that Cameco is hated and ignored. And it's not likely to see a substantial hit on earnings or profitability because uranium isn't likely to get much cheaper than it is now.
I like Cameco under $20 a share.
And if you can't get excited about Cameco, then I totally understand. But maybe you can get excited about a 2.1% dividend. Cameco's dividend currently yields more than the 10 Year US Treasury.
So you can hold your nose and collect this dividend while you wait for some price appreciation.
To reiterate – this company is currently cheap by almost any metric. Nuclear energy isn't going anywhere. And in ten years, Fukushima will be as important to the nuclear energy industry as the Exxon Valdez was to oil ten years after that disaster.
Good investing,
Kevin McElroy
Editor
Resource Prospector