.357 magnum

Silver in the mail

An ETF that isn't completely horrible
It's been really hot in Vermont this week. It scratched into the 90s yesterday, and it
looks like it'll do it again today. I
usually try to get outside for some exercise, either some bike riding, tennis
or golf, but at this point I'm just not acclimated to summer weather.
You might remember just a
couple weeks ago when I talked about the snow we were getting. There's a saying in Vermont that goes something like, "if you
don't like the weather, wait 10 minutes."
So
yesterday I took it easy and just decided to shoot some empty beer cans with my
Ruger .357 magnum single action revolver. While not as strenuous as a few sets of tennis or a 10 mile bike ride,
throwing some lead down range is at least as therapeutic, even if I only
managed to hit two of the four cans with a full box of ammo at 50 yards.
In the meantime, some of you
sent in some great commentary about silver stocks for me to peruse. And, not surprisingly, many of you hit the
nail on the head.
George C. wrote in asking
about Silver Wheaton (NYSE: SLW).
George
writes,
"You asked for any questions about silver
investments; so, here's one: What is your opinion of Silver Wheaton (SLW)?"
Thanks for writing in
George.
SLW comes up frequently in
discussions about silver stocks. That's
mostly because it's the biggest company that focuses entirely on silver, and
it's done a good job of multiplying gains made in silver's price over the long
run.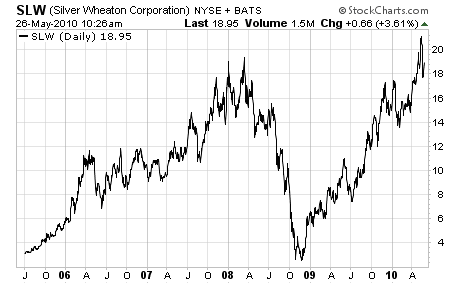 The stock sold off massively
at the end of 2009, but it bounced back immediately, and over the long haul,
it's magnified gains made in silver's price by three-fold. That's what you should expect from a good
precious metal stock.
The downside is that
like many precious metal stocks, it's richly valued. It's not as richly
valued as a similar company in the gold industry – Royal Gold (Nasdaq: RGLD), and it's not extremely overvalued with regard to
industry peers (of which there are few) – but it's richly valued in
comparison to what I would call a typically "safe" investment.
Charles S. also wrote in
with some good tickers for silver investors:
"Here are my three
recommended silver stocks:
SLW – one of the
largest silver miners with a significant anticipated productivity increase for
2010. Expect this to hit $25 before year end
SVM – Lowest cost
producer of silver. Currently at around $7 but will go to above the recent high
of $9 in the next 3-6 months
CDE – With their
Kensington mine ramping up production by mid-2010, silver production will reach
record highs. Expect this to reach $22-23 in 3-6 months
A good silver ETF
I like is AGQ which tracks silver price movement X 2 hence you get double the
benefit of iShares when silver moves up. Expect this to be in the $70-75 range
when silver makes the next good run which based on my estimates should be
between 3-6months from now."
Thanks Charles – you've definitely got your bases covered. I haven't done too much analysis on
Silvercorp Metals (NYSE: SVM) or
Coeur D'Alene Mines Corp. (NYSE: CDE)
– but these look like some good starting points.
I am intrigued by this
Proshares Ulra Silver ETF (NYSE: AGQ)
for the very reason that it seems to be designed to actually make money. I've talked frequently and at length about
how I despise most ETFs because they seem designed to lose money, or at the
very least, to do nothing but generate "small" fees for their managers.
But I'm concerned that this ETF, just like many others, has been unable
to "live-up" to its proposed goals of doubling the performance of spot price
increases in silver.
I have to express this concern because when this ETF was launched, it
sold for $22.74 a unit. At the time,
silver sold for about $9.50 an ounce.
Since then, silver has nearly doubled to $18.40 an ounce, but AGQ now
sells for $58.91, or only a 159% gain. That's great, but it's not living up to what it's supposed to do. It's not terribly far off from the 186% gain
that it would need to be on target, but it's disappointing nevertheless.
At the end of the day it's certainly better than most other ETFs I've
seen, and it's definitely better than the Ishares Silver Trust ETF (NYSE: SLV) that barely keeps pace with
silver. So, if you're looking for upside
in the price of silver, you could do a lot worse. I would caution everyone to remember that
these leveraged ETFs, and leveraged investments in general, can fall at least
as quickly as they rise.
This ETF kicks the crap out of my least favorite – the United States
Natural Gas Fund (NYSE: UNG).
Of course, I advise everyone to do their own research when it comes to
any investment. But to get the ball rolling, I'm excited to announce that I
will be sending my full report about UNG, to all Resource Prospector
subscribers tomorrow morning, free of charge. If you want to find out why this dog has done nothing but lose money,
look for my report in your inbox tomorrow.
Good investing,
Kevin McElroy
Editor
Resource
Prospector