Costco Wholesale Corp (Nasdaq: COST) stock was trading around 2% higher this morning after reporting earnings that beat the consensus analyst estimate by a penny. Third-quarter profits popped 20% from a year ago, hitting 88 cents per share , while revenue rose 8.2% to $22.3 billion. Analysts called for earnings of 87 cents and $22.1 billion in revenue.
That's good news for earnings watchers, as Costco has a checkered history with respect to beating estimates. In the past three years, the company has beaten the average estimate four times, met four times and fallen short four times. Last quarter (reported on February 29), the company beat by three cents. The Costco stock price advanced 1% the day of the announcement and continued higher for the next two weeks, advancing 10% to hit an all-time high above the $90 level.
Today's news is providing some welcome relief for a stock that has been battered for the past couple of months. After hitting an all-time high at $92.10 on April 2, the shares slumped 11% to the $82 level earlier in May. Today, however, the shares are bouncing strongly off the 200-day moving average, a trendline that provided support in January. What's more, Costco stock is trading above its declining 20-day moving average, which has guided the shares lower for nearly two months.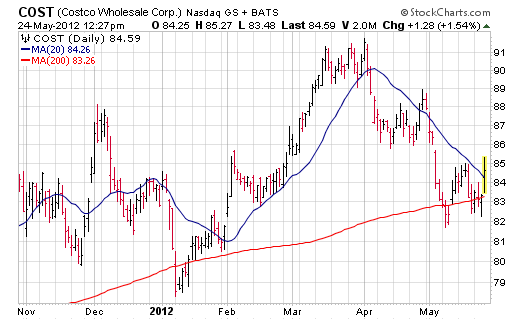 The Street is probably encouraged by some of Costco's numbers, particularly those relating to membership to the company's warehouses. New members are up 9% from a year ago, thanks to strength overseas. And membership renewals remain on an upward path, hitting 89.6% in the U.S. and Canada and 86.2% worldwide.
This comes despite an annual fee increase of $5 for regular members and $10 for executive members, enacted last November. These increases contributed just $8 million to the bottom line in the third quarter, but will add far more in coming quarters, according to this morning's earnings conference call.
While today's financial results didn't blow away estimates (in fact, comparable sales fell short of expectations), Costco's numbers rarely do. In fact, profit estimates usually fall within a penny or two of the actual number (the average has been around two cents for the past 12 quarters).
Analysts are likewise lukewarm toward the shares, with fewer than half of the 27 covering analysts giving Costco stock a "buy" rating. That leaves plenty of room for upgrades, which may be in the offing given that the stock is up more than 50% since August 2010.