It's been one full month since I wrote "A Cisco Top," in which I was expecting a top to Cisco Systems (NASDAQ: CSCO) ahead of its earnings report. At the time, I was looking for a decline to $17.50. However, Cisco stock ultimately dropped all the way to $16, nearly another 10% beneath my target.
Currently, the shares are extremely oversold, having fallen to $16 from $20 over the course of a month. Though the shares are likely to decline back down to $15 this summer, the bulls should look to step in soon and ignite a near-term rally.
I suspect buyers will re-emerge soon because the decline of CSCO this month is similar to its decline from March 2011. The chart below shows that Cisco stock fell substantially in February 2011 and May 2012.
In the midst of the 2011 decline, the shares gapped down (blue circle) in March and then stabilized. This gap then acted as a floor for the next two months.
The decline last month was impressive, as Cisco lost 25% of its value. However, on June 1 the shares gapped down in a way that resembled the gap back in 2011. If true, CSCO is likely forming a floor for the next two months before it falls to $15.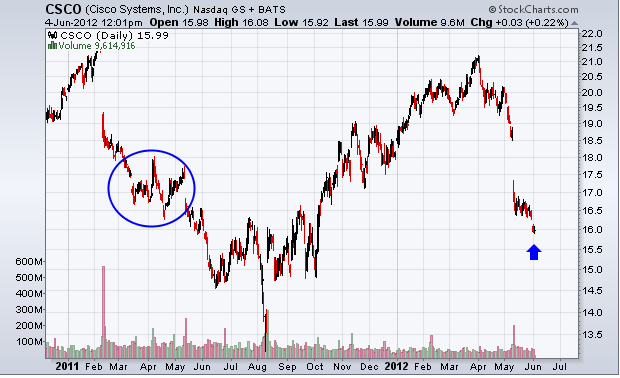 Equities mentioned in this article: CSCO