Every time it seems that Apple (NASDAQ: AAPL) shares have hit a bottom, the world's largest stock just keeps going lower. Now it's in danger of dipping below a major benchmark.
AAPL shares finished the week at $509 – their lowest level in 10 months. The stock hasn't been below $500 since mid-February.
The last six weeks have been a complete roller coaster for Apple. Look at what it's done since November 1: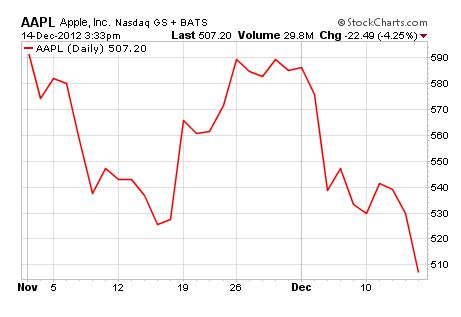 In late November, it looked like the worst was over. But since the beginning of December, Apple shares have tumbled even lower, declining an astonishing 13%. Now analysts are torn over which direction it's going.
The low target on Yahoo! Finance is $270, while the high is $1,111. With a PE ratio of just 11.5 right now and in the midst of what is sure to be another blowout holiday quarter, on the surface Apple appears ripe for a huge bounce-back.
But with the fiscal cliff looming and its two recent products – the iPhone 5 and iPad Mini – disappointing, momentum is clearly not on Apple's side. The stock is just a stone's throw from sinking below $500.
Can the largest company in the world stop the bleeding? Stay tuned.