Shares of American International Group (NYSE: AIG) may be on the verge of a 42% rally.
AIG was preparing for a big drop in my previous ChartWatch analysis in May. However, the bulls now appear ready to turn the tide, and take the shares higher.
After hitting my $28 downside price target in June, the shares quickly stabilized. A bullish engulfing candle also formed (blue arrow), setting the stage for a major swing low.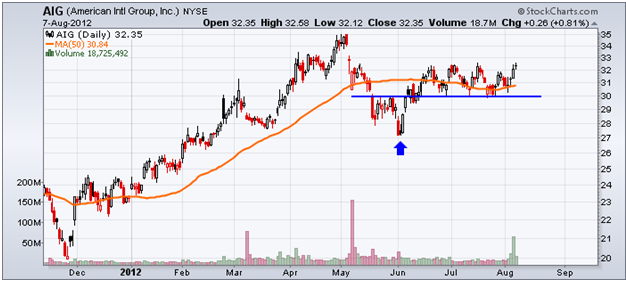 Bullish engulfing candles frequently mark major turning points for stocks. This candle has already spurred a 15% rally in AIG shares, and another 42% could be on the way.
Let me explain…
AIG has strong support at $30 (blue line). The shares also regained the 50-day moving average (orange line) last week. Since these support areas are close to each other, both should act as a launching pad for the stock.
Obvious resistance exists near $33. And it will be important to watch volume as the breakout occurs.
A low volume breakout past $33 would target $37, or about 13% higher. However, a high-volume breakout past $33 sets the stage for a 42% rally to $47.
Volume (when higher than average) signals that institutional investors are buying positions. The heavier volume combined with the recent reclamation of the 50-day moving average further strengthens the likelihood of a 42% rally.
This month, AIG must hold $30. A break below that zone invalidates the current bullish setup.
Additionally, volume needs to begin increasing. With the exception of August 7, volume has trended lower since May.
Fundamentally, AIG is a weak company. However, 7.1% of the outstanding shares are short and Ben Bernanke is unwilling to repeat another Lehman Brothers fiasco, giving credence to the 42% upside potential.