There is perhaps no name more recognizable in the healthcare technology market than Intuitive Surgical (NASDAQ: ISRG). Its unique robotic technology combined with its da Vinci system gradually became a second right hand for many surgeons. While the technology is impressive, it's the stock that sparked my interest.
The shares dipped below their 50-day moving average (orange line) in May. However, ISRG shares are in a position to recapture this lost moving average, which is a big deal for bullish investors.
In the past year the stock lost its 50-day moving average a few times (blue arrows). However, the shares eventually rallied every time the stock re-gained the 50-day. Sometimes those rallies were short-lived; still, the shares managed to develop some kind of rally each time they regained that moving average.
In June, the shares rose about 13.5% to $415.19, while a September rally pushed the stock 8% higher. However, in October the stock managed to rally to $594 from $375, a surge of 58%.
The shares should pop again, although the magnitude of this likely rebound is unpredictable. Short-term traders can certainly reap the rewards of a quick burst to $575 over the next few weeks. On the other hand, long-term investors may have to wait awhile, but the wait could be worth it should the shares go on another October-like-rally – this time to $700.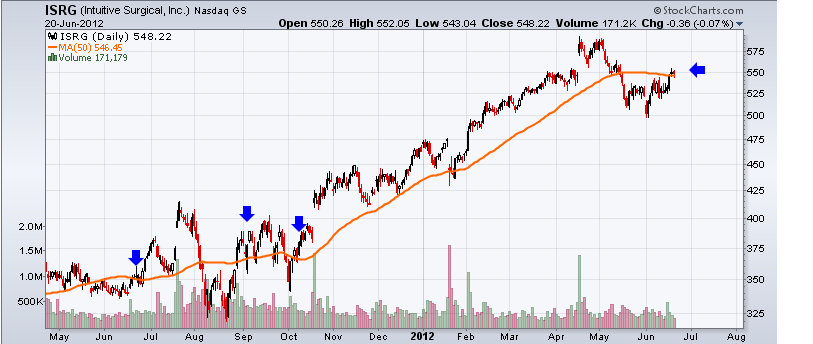 This chart shows the price of Intuitive Surgical shares along with an important support area for you to monitor
Equities mentioned in this article: ISRG