Google (NASDAQ: GOOG) finally decided to join the tablet war after its stock had been in a holding pattern for over a year. Despite solid financials, the shares cannot seem to break past $630 resistance. However, on Wednesday Google released several new products – one of which competes with the Apple (NASDAQ: AAPL) iPad.
The new tablet is called Nexus7 and it will use Nvidia's (NASDAQ: NVDA) Tegra processor. Its $199 sales tag comes at a steep discount to the competition from Apple while offering comparable features.
Despite a flurry of competition, Apple has stayed in control of the tablet market. Other companies have tried to copy their design, but can only claim minimal success.
Apple offers consumers more than a product and parts – it's an image too. Perhaps Google is changing its ways and taking an Apple-like strategy with its marketing.
At Google's developer conference in San Francisco, management decided to take a very unique "route" with the unveiling of the new Google Glass product. The demonstration started outside of the conference (live) in an airplane flying over the city. Riders in the plane were sporting Google Glasses, which were used to record passengers as they jumped out of the plane's cargo door. The Google Glasses accompanied the jumpers the entire ride down to the roof of the conference building, where they were handed off to a group of cyclists.
The cyclists carried the specs (which remained recording) all around the roof before handing the product to a climber. The climber rappelled down the side of the building and passed the product to a runner, who eventually handed them to the onstage presenter.
The stunt was impressive. And the new products should help enhance Google's revenue stream, which is sorely dependent on its advertising sales. The diversity in sales will hopefully help the stock, which is at risk of making a huge move lower should it not stabilize above $565.
Strong chart support for the stock exists around $565(represented by blue arrows), which held the shares steady in November and January. While I expect that buyers will protect this support area again, any additional selling would push the shares to $480. Conversely, a strong showing of support (riding the tailwind of the recent new product launches) could push the stock back up to $630 (blue line) and eventually to my long-term target at $700.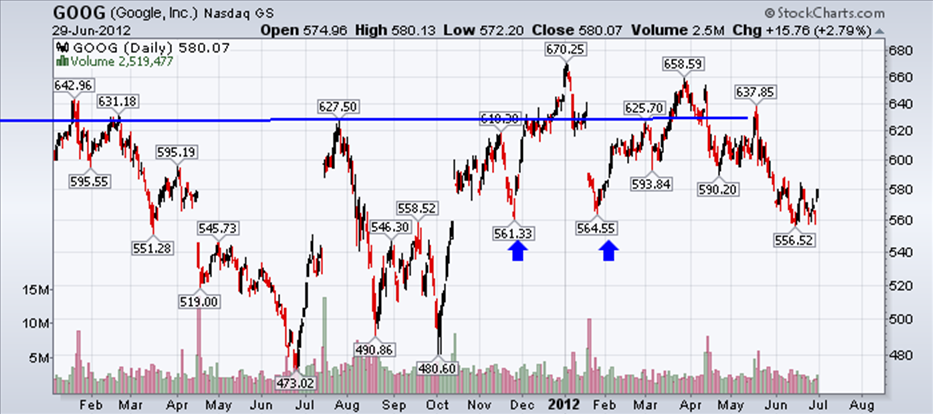 This chart shows the price of GOOG shares along with an important support area for you to monitor
Equities mentioned in this article: AAPL, NVDA, GOOG