Happy St. Patrick's Day! In honor of the holiday, the stock market is in the green. The Fed reiterated its pledge to keep interest rates low for an extended time. The promise of cheap money is clearly helping to support stock valuations.
Also helping move prices higher, and supporting the Fed's stance, is the 0.6% drop in the Producer Price Index. The drop was led by food and fuel prices. Excluding those, the so-called "core" rate climbed 0.1%.
You wouldn't know fuel prices were lower looking at the price for a barrel of oil. Despite the relative strength of the U.S. dollar, oil has staged a month long rally that's got it within spitting distance of its 52-week highs. And I expect we'll be seeing those highs in the very near future.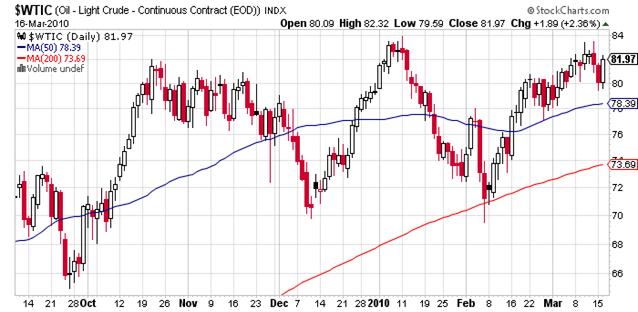 Oil has traded steadily higher since the market bottom last year, even as demand numbers were weak and inventories steadily built. So what's going to happen now that demand numbers are starting to rise?
Saudi Oil Minister called prices "beautiful" at the OPEC meeting in Vienna yesterday. He went on to say that demand could rise by 1 million barrels a day by the end of 2010. Needless to say, OPEC voted to keep production levels steady. They know higher prices are on the way…
Still, it seems to me that most analysts and investors are not giving oil its due. There seems to be an underlying assumption that more oil can be pumped to meet increasing demand. It may be more expensive, but no one is concerned that the supply is there.
Unfortunately, we may be only a few years from the point where there is very little excess supply capacity.
Gregor Macdonald, the energy economist for Energy World Profits gives us a dramatic chart that tells the story of non-OPEC oil production…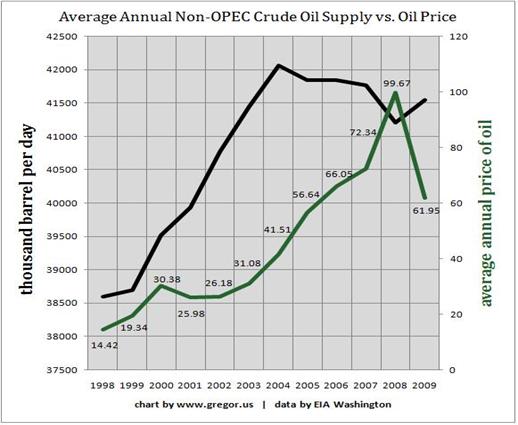 This chart shows us two important things concerning oil production. One, non-OPEC production peaked in 2004. And two, non-OPEC oil producers were unable to raise production even as prices ran toward all-time highs.
I think it's clear that if countries like Russia and Mexico could have raised oil production to take advantage of +$100 a barrel oil, they certainly would have.
Bottom line: you should have oil stocks in your portfolio.
Maguire Properties (NYSE:MPG) came within a penny of my $2.80 target. The company reports earnings on Monday, March 22. I think it is unduly risky to hold this stock into earnings.
From our $1.50 entry price, we have gains around 80%. That's pretty good. Feel free to take your profits before Monday. And if you get a chance, drop me a line and let me know how you did with Maguire – [email protected].