Video: Live Stock Analysis
Watch this just-released video for the latest chart analysis of Apple (NASDAQ: AAPL), Intel (NASDAQ: INTC), Google (NASDAQ: GOOGL) and other tradable stocks!
This exclusive webinar video replay is online for the next 48 hours. After that, we'll be taking it down.
Click here for immediate access (no registration required).
======================
There are many benefits to owning a small company like Wyatt Investment Research. One of them is that I'm able to speak directly with so many of my customers, and listen to their feedback.
Last month, I introduced you to an extremely talented trader named Evan Lazarus. He recently joined Wyatt Investment Research as our Chief Technical Analyst. And he's has been showing our members new ways to analyze charts and trade stocks.
In late June, we held our premier webinar to introduce our subscribers to Evan. The event had record attendance and a huge number of questions about specific stocks. In fact, our Question & Answer session was so busy, we extended the webinar for an extra 90 minutes!
After the webinar, we were flooded with calls and emails from people who wanted Evan to analyze their favorite stocks.
In response, we organized another webinar last night. Now, most of our webinars are focused on an in-depth investment presentation. And that's accompanied by a quick 10 to 15-minute Q&A session.
This time, we changed it around.
The real meat of last night's event was the live analysis of stock charts – all selected by those who attended the webinar.
In total, Evan analyzed more than a dozen individual stock charts and potential trades! Although he wasn't able to get to EVERY single request, he did an outstanding job of analyzing as many charts as possible.
Click here to watch the webinar replay video right now.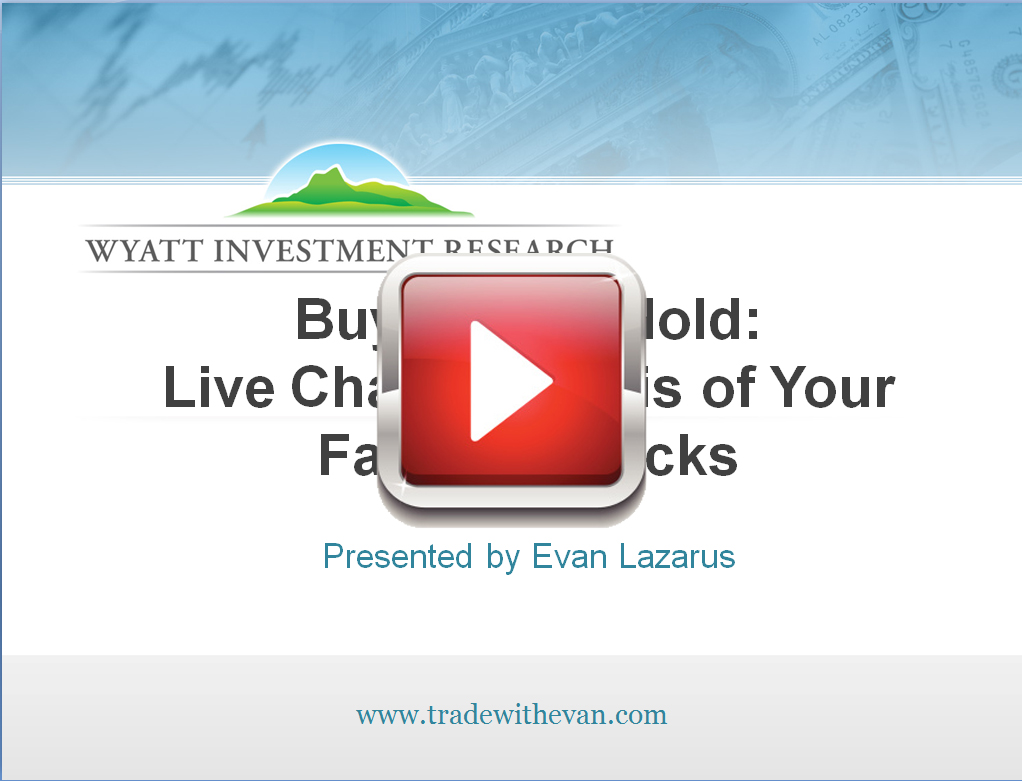 Watch the webinar video replay and you'll get Evan's current analysis of the following stocks and ETFs:
Apple (NASDAQ: AAPL)
Google (NASDAQ: GOOGL)
Intel (NASDAQ: INTC)
Netflix (NASDAQ: NFLX)
SPDR S&P 500 (SPY)
Twitter (NYSE: TWTR)
Tesla Motors (NASDAQ: TSLA)
And many more stocks!

Plus, you'll discover how Evan identifies "tradable" stocks, with the goal of earning quick profits of 5% to 40%.
His insights can help you better understand stock charts and price movement. Using this information, you could be able to get a better price the next time you buy or sell a stock.
Please take the time to watch yesterday's video. You won't be disappointed.
Good Investing,
Ian Wyatt
Chief Investment Strategist
Save
Save
Save
Save
Save
Save
Save