It's a vicious cycle.
Stocks quietly rise, rally to a peak and crash … only to do it all over again.
We're in the painful part of that cycle right now, as stocks seek a bottom. The small end of the market – small and micro-cap stocks – is taking it on the chin the hardest.
But the bottom of this cycle is also the time when we can get lined up for the biggest returns with these little companies, as much as 10% to 30% … or more … in just a few weeks.
We don't need to go out and buy everything all at once today. But it's sure a good time to make a shopping list so we're ready when the right time comes.
And that time could be sooner than many investors think. Check out this 5-year chart of the Russell 2000 Small Cap Index to see exactly what I mean.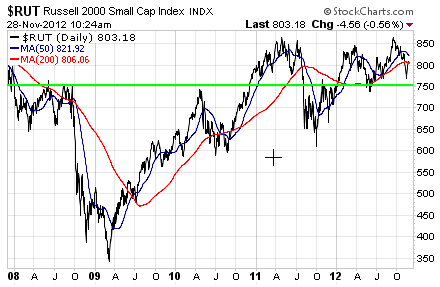 In October, small caps broke below their 50-day (blue line) and 200-day (red line) moving averages, sending the index back down toward a critical support zone around 750. At that point we were close to the 2012 lows.
If we see the index hold this line, it's time to buy small-cap stocks again.
Near the top of my list is a little company that just reported earnings yesterday. It's a tech company that helps Audi, Bank of America (NYSE: BAC) and McDonald's (NYSE: MCD), among others, understand their customers better.
That understanding translates into more dollars in its customers' pockets, which is why this company just reported 45% revenue growth in 2012. A post-earnings sell-off has brought the stock down by $2.00, and opened the door for a potentially big upside move before the end of the year. You can learn more about this company here.
That move is by no means guaranteed, but this is exactly the situation you should be looking for – in this stock or any other stock you like – be it micro-caps or large-cap favorites like Apple (Nasdaq: AAPL) and Chevron (NYSE: CVX).
For now, I'm still recommending that investors be patient. Build your list and get ready.
If we see the Russell 2000 crack the support zone I mentioned above, we'll just hold our list of potential "buys" and gobble them up near the next support zone.
But if stocks hold steady, adding some exposure in the coming weeks will help us catch the next updraft.