In relatively quite fashion small cap stock indexes have risen to
all time highs. In early January the Russell 2000 broke above its
historical high, and it's kept on climbing.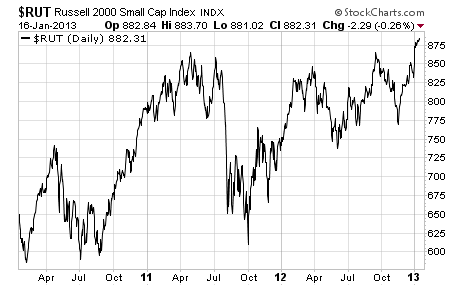 Despite chatter of the debt ceiling debate and projections that the
recent tax package will trim 2013 GDP, small appears to be strong.
Technically speaking, the burst higher is bullish for stocks in the
near term. And growth stocks in particular (like many small caps) should
trade at a premium given the relative lack of growth out there. The
strength in small caps is also a sign that investors' risk tolerance is
increasing.
Another possibility is that bearish predictions for the upcoming
earnings season are overblown, or at least that they are already priced
into many company shares. Whatever the reasons, one thing is clear –
small caps are smoking hot right now.