Consumers racked up more debt in November than at any point since the 2008-09 recession.
Total outstanding consumer credit jumped 7% to $1.9 trillion in 2012's penultimate month. That's $16 billion more than consumers spent in October, and 25% more than the $12.75 billion month-to-month increase analysts were expecting.
Apparently a lot of consumers broke out the plastic during their Black Friday shopping. Visa (NYSE: V) and Mastercard (NYSE: MA) shareholders are surely thankful that they did.
Visa shares are up 16% since the beginning of November. Mastercard shares have risen 14%.
And while the last two-plus months have been especially fruitful for the two largest credit-card companies in the world, the two stocks have been ascending rapidly for the better part of two years.
Check out this two-year chart of both stocks: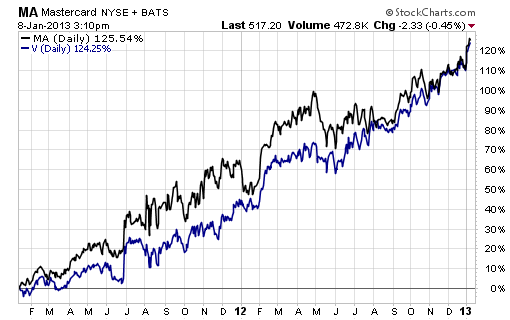 The moves have been almost identical – right around 125%. At the end of 2010, consumer credit spending was on the decline, having fallen off 1.2% that year. Since then, credit spending has risen every quarter – and Visa and Mastercard have taken advantage.
Visa's revenue has increased each of the last two years. Mastercard's quarterly profits have increased 40-fold since the end of 2011.
Neither stock is overly cheap at first glance, with Visa trading at 19 times forward earnings and Mastercard trading at 20.5 times forward earnings. Considering that consumer credit spending blew economists' projections out of the water in November, however, those future earnings projections may wind up being fairly conservative.
With credit expanding so rapidly, most analysts are still high on both stocks. In fact, analyst opinion on the two stocks is identical: 27 "buys", six "holds" and just one "sell".
So even after such an incredible two-year run, shares of Visa and Mastercard appear to have plenty of room left to grow.