The Great Recession was tough on everyone – businesses and consumers, the young and old, employees and CEOs. Though many groups have done well during the recovery, some continue to suffer.
For example, corporate profits have completely recovered. In fact, many businesses are earning more money now than ever before. Domestic profits of financial corporations increased $68.1 billion in the third quarter.
The success of corporate America has helped push most of the U.S. indices back to or above 2007 highs. Apple stock is 117% above its 2007 peak.
However, some segments have not recovered so well. U.S. employment remains uncomfortably high at 7.9% after Friday's report.
The employment numbers are trending positively, but they're not improving fast enough. Ben Bernanke agrees. He views U.S. unemployment as the biggest problem in America. And he's thrown more than $1 trillion toward stimulating job growth.
Though jobs have been slow to recover across America, one demographic has benefited significantly more than all others. This disparity will have a huge influence on America's future, too.
Readers may be surprised to learn that they are in fact part of this privileged group of society. And it has nothing to do with personal wealth.
Many older Americans are hard at work. In fact, they were the first age group to be rehired in 2009. This segment has sustained its recovery too, accounting for 4 million new jobs.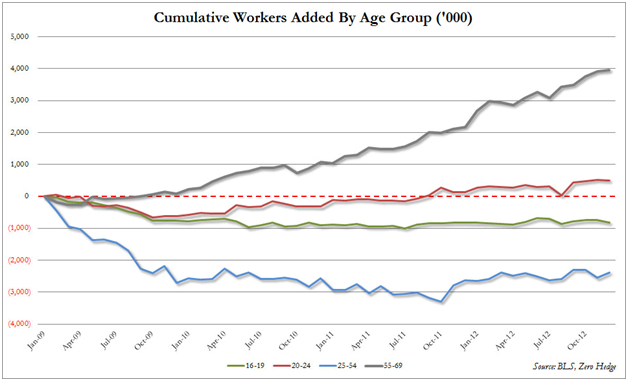 Data from BLS, Chart was provided by Zero Hedge
Of course, older folks gained jobs at the expense of the younger generations. The 20-24 bracket (red line) was the only other group to add jobs since January 2009. The 25-54 (blue line) grouping was especially hard hit, losing more than 2 million jobs – a difference of around 6 million workers compared to the 55-and-older crowd (gray line).
The older generation is still filled with healthy, dedicated and hard workers. Moreover, their experience brings many incalculable benefits. So it was smart for businesses to target this group first during the hiring process.
However, there needs to be better balance going forward. Businesses are missing a great opportunity to pair older mentors with younger workers. Young people could greatly benefit from working with the older generations. And businesses stand to benefit from this mentorship years later as the younger generation takes on higher-level managerial roles.
Though the older generation has benefited from employment trends, salaries have not grown at a level to compensate them for higher medical costs. In fact, wage growth has stagnated for all workers. Meanwhile, education, energy and healthcare costs have risen dramatically.
Employment and income growth are lagging indicators. So it's no wonder that both of these have shown little improvement since the economic recovery began.
However, we're a full three years from the bottom. If the U.S. economy is to keep chugging along it needs employment trends to show a faster improvement. That means more hiring, higher wages and adding more young workers. Additional hiring at higher wages will help boost consumer spending, which should help corporate profits.
As young adults find work and steady pay, they will be more inclined to pursue homeownership. Housing is critical to a strong U.S. recovery because the sector touches many areas, including banks, insurance, materials and construction. Moreover, a rise in home demand would boost home prices and produce a wealth effect. So keep hiring new workers corporate America. But be mindful to keep new hires balanced and pay current workers more (when they're due), too.
Editor's note: If you would like to learn how you can bank steady gains with well-timed investments in stocks that are ready to run… then consider taking a free, 30-day trial to our growth stock service, Top Stock Insights. You'll discover exactly how we're earning exceptional returns and get instant access to every special report and investment recommendation. Click here to try Top Stock Insights, free.