Financial troubles in Greece continue to bash the global market. It's incredible that one little nation could impact the entire globe.
Greece is a country of just 11 million people. Its GDP is also small at an estimated $301 billion, which compares to Denmark and Thailand. Apple (Nasdaq: AAPL) has a $535 billion value while Exxon (NYSE: XOM) is valued at $380 billion.
The GDP of Greece is small, but its debt balance is huge. The current debt estimate is $570 billion, or 170% of its GDP. Moreover, the population of Greece has little ability (or desire) make good on their debt.
The EU, IMF and even China have stepped in over the past year to assist Greece with its interest expense. But Greece is a financial zombie that will never come back to life again without drastic financial adjustments.
Greek debt is too high and the population will be unable to bring it down. The likely outcome is a departure from the EU, which will remove Greece from the euro system and bring about the formation of a currency that will likely be 50% lower than current levels.
In effect, Greece will start over, which is a good thing for them. The restart could be a terrible outcome for bond and stock holders. Investors could be completely wiped out or have to take substantial losses
But there is a way to make money out of this mess.
The National Bank of Greece (NYSE: NBG) will likely cease to exist. Bearish investors can take naked short positions as the stock declines toward zero.
A default will also have ramifications on the entire European system. Bearish investors could buy put options on the CurrencyShares Euro Trust (NYSE: FXE) as the euro plummets against the dollar.
Another option is to buy a position in rock-solid companies as the stock market declines. A default will result in short-term panic for the U.S. stock market. Great stocks like Apple will likely decline 10% in days, which gives you an excellent window to invest in one of America's best corporations.
The chart below details where you can enter a bearish trade on NBG.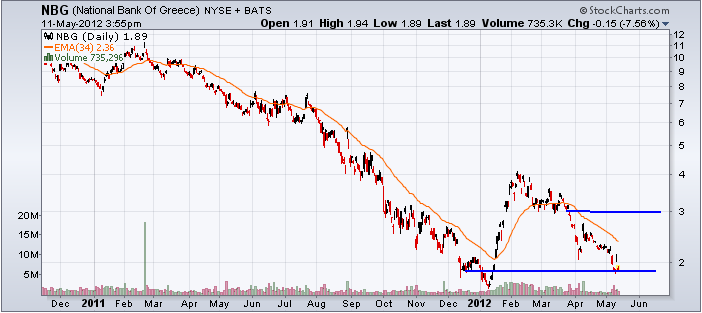 I expect the shares to find support just below $2 and resistance near $3. The $2.65 area is also an area of selling pressure. The shares are clearly in a bearish trend. And until great news from Greece is evident (and don't expect that anytime soon), I expect that trend will continue.
Go short at any price above $2.65 with a stop of $3.20. You can cash out of your trade as the stock comes back to $2. Should the shares break down below $2, it is likely the start of a move toward zero.