Black Friday is the most important day of the year for the whole retail industry. It's also America's most ridiculous shopping event.
Thousands of people gather outside of stores (some even spend Thursday night in line), hoping to be the first through the doors to collect steep discounts on popular wares. For some families, waiting in line for Black Friday sales is as much a part of Thanksgiving as turkey and gravy.
For customers, Black Friday is an event. For storeowners, however, this popular shopping day could mean life or death.
Many retail businesses report that more than 10% of their annual business can occur from Black Friday shopping. Though earnings season is important, a strong showing during Black Friday could energize analysts and prospective shareholders, driving the indices higher.
In fact, U.S. stocks surged following a positive Thanksgiving sales weekend last year. Stocks ended a massive negative streak on the Monday after Thanksgiving because retailers reported $52.4 billion in sales – a 16% increase from 2010.
Traditionally, fashion and electronic retailers garner the most attention and bring the biggest crowds. And based on analyst expectations, this year will be no different.
However, those may not be the best stocks to own or trade ahead of this year's Black Friday.
The first stock is about as traditional to the Thanksgiving weekend as it can get, while the other two might surprise you.
Black Friday stock #1
Macy's (NYSE: M) and its Thanksgiving Day parade have become part of the holiday weekend. For 86 years, Snoopy and other oversized floats have made their way through New York City. The retailer has been just as dependable as its procession since the company was founded back in 1820.
Though retail stocks have been under pressure since the recession began a few years ago, Macy's has been on fire. In fact, the shares, which cost around $41, recovered from a low of $4.75 in 2008.
Operationally, the business is strong and the 2% yielding shares could be undervalued, too. Analysts expect that Macy's will report $3.39 EPS this year and $3.81 in 2014. Based on those projections, the stock has a P/E ratio of 12 times current and 10.5 times forward EPS.
Moreover, analysts expect sales of $27.7 billion this year. That gives M a price-to-sales ratio of 0.6. – nearly 50% below the industry average P/S ratio of 1.05.
Last year, the shares declined in the weeks leading up to Black Friday. However, the stock jolted from $28.90 to $31.73 in the three sessions following the holiday weekend.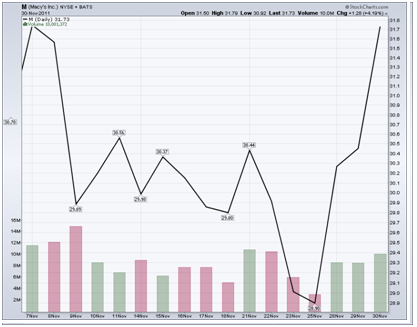 Black Friday stock #2
The second stock may surprise you, especially because you'd think banking on people's empty tummies would be silly after Thursday's holiday feast. However, restaurants actually do big business during Thanksgiving weekend.
If results this year mirror 2011, expect 14 million Americans to dine out while 16 million will order takeout during Thanksgiving. Also, research from the National Restaurant Association showed that 32 million Americans are likely to eat out while shopping on Black Friday.
Hungry Americans should mean big profits for one of America's favorite food chains. Chipotle (NASDAQ: CMG) should cash in this Thanksgiving.
What's even better for investors is that Chipotle stock has fallen from $442 to $265 during the past three months. This decline provides a great chance to go long at a lower price.
Though the shares were killed leading up to Black Friday in 2011, the stock recovered quickly. In three days, CMG jumped by more than 7% to $321.56. Eventually, the shares broke above $400.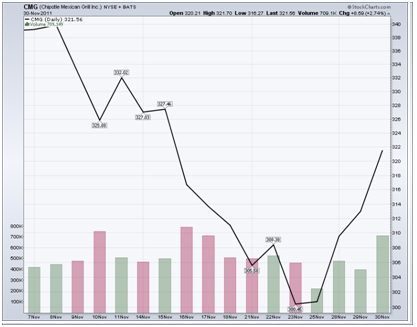 Black Friday stock #3
Home Depot (NYSE: HD) is also not your typical Black Friday company. In fact, Home Depot is one retailer unlikely to have a line outside its stores before opening.
However, HD's stock responds well to positive retail data. Apparel companies receive most of the attention during Black Friday. But positive retail figures over this weekend may indicate that consumer spending will trend upward in the months ahead, which would help more than just apparel businesses.
Home Depot was one of the hardest hit companies during the 2008 recession. Because the slowdown stemmed from a busted housing bubble, home improvement stores like Home Depot suffered mightily.
The economy and these businesses have since turned around. Though the shares are not cheap, the company stands to benefit from increased consumer spending and a recovery from home prices.
Over the past six months, U.S. housing data certainly supports that a strong recovery is underway in the sector. Consumer spending may show some additional strength as well, should Black Friday sales surpass estimates. And based on last year's three-day 8.5% rally, HD shares could be your best bet to place ahead of Black Friday.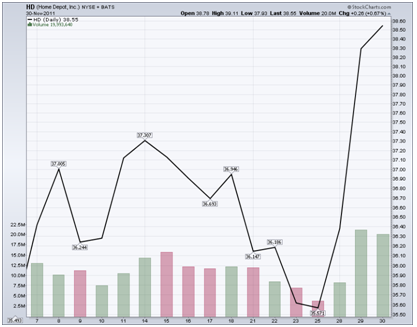 Though Black Friday sales data should benefit each of these companies, they are great investments outside of this short-term trade. Moreover, history points to weakness ahead of the Black Friday weekend for these stocks. And given the weak earnings season and trouble in Europe, more declines may be on the way. However, these look to be great trades to enter the Wednesday or Friday before the holiday weekend and holding them through the next week. These stocks could also develop into great investments over the long term as the U.S. economy continues to chug along.
The author has no positions in any stock mentioned above at the time of preparing this article.
Eureka! Huge, new oil reserve discovered under the Atlantic
Geologists estimate it's the biggest reserve in the Western Hemisphere. We call it, the "Saudi Arabia of Offshore Drilling." And only one company has the high-tech rigs to reach these billions of barrels of crude. It's there right now… reaping massive profits with an entire fleet of drilling rigs. The best part is, the bulk of these profits are paid out to shareholders in the form of dividends. And this driller is making so much money… it regularly pays out special dividends (it's paid out 20 consecutive special dividends in a row). That means investors earn up to 8 dividends a year — all from this one company. Click here for all the details – before the next ex-dividend date!