The ultimate Canadian cannabis insider recently invested $500,000 . . .
And he wasn't buying one of the "usual suspects."
Instead, he was buying a 7% equity stake in this tiny Pre-IPO.
Go here to become a marijuana insider (completely LEGAL).
Back in 2013,  nobody wanted to invest in cannabis.
It was ILLEGAL.
And considered very RISKY.
But that didn't stop two friends from Toronto from launching Canada's first cannabis company.
Canopy Growth (NYSE: CGC) was Canada's first licensed producer in Canada to go public. The stock was also the first to be listed on the New York Stock Exchange…
That attracted a $3.8 BILLION investment from a Fortune 500 company called Constellation Brands (NYSE: STZ).
And its market cap has ballooned to $16.7 BILLION.
Canopy Growth stock has been an absolute monster. A small $5,000 investment grew to $117,705 in just three years!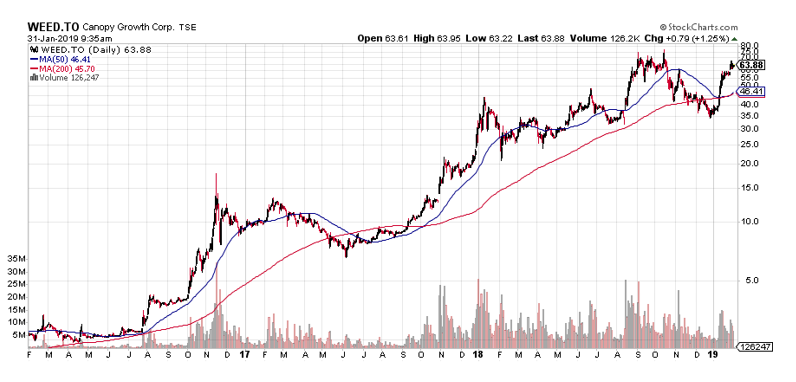 After making a fortune with Canopy Growth . . . this insider is BUYING private "Pre-IPO" marijuana stocks.
That includes a $500k investment in this undiscovered company. Click here for details.
Stocks like Canopy Growth have been very, very profitable. Full disclosure: I own the stock and have been thrilled with the gains.
However, Canopy's big gains are in the past.
If you're looking for huge upside – and the opportunity to turn $5k into $100k – you need to go elsewhere.
That's why I'm personally investing in this unique Pre-IPO situation.
It's a new technology stock that's brewing beverages from cannabis. With patent-pending technology, the company could dominate the business for THC and CBD beverages.
How big is the market?
Well, the CEO of Molson Coors says it could be worth $3 billion annually . . . and that's ONLY the Canadian market.
Meanwhile, the Cannabis Intelligence Briefing says it's a $4.1 billion market. Ultimately, beverages could command 20% of the global cannabis market . . .
Making this a $40 billion industry!
That's why I'm jumping into this deal right now.
I'm personally investing $20,000 in this private company . . . just 60 – 90 days before I expect the stock to "go public."
The shares are a bargain: just C$2.50 per share (compared with C$63 for shares of Canopy Growth).
I'm hosting LIVE webinar to reveal all the details.
Click here now to RSVP – it's FREE.
Yours in Profits,
Ian Wyatt