We may be able to thank the government shutdown for slowing one of the great growth sectors of the U.S. economy: car sales.
Some would-be car buyers postponed new car purchases in the second half of September and first half of October, according to recent data from auto dealers and the Commerce Department.
AutoNation (NYSE:AN) CEO Mike Jackson said there was "no question" that the shutdown disrupted sales. And TrueCar.com reported that daily sales fell by 28% in the first half of October as compared to the first half of September. The falloff was particularly harsh in states like Alaska, which has a large population of government employees.
I think the dip in car sales is a reminder that the recovery isn't going to be a straight line. Expect high and low points along the way as economic factors trump consumer demand.
But if these events are temporary — as the government shutdowns was — I believe the dips open up opportunities for investors.
I've been following the car upgrade cycle throughout 2013 and after reviewing recent data, I believe car buyers are likely to come back in Q4. As a result, I view the recent pullback in auto dealer stocks as an opportunity for investors to add exposure to one of the strongest growth trends in retail.
Prior to October, stocks of auto dealers, including AutoNation and Penske Automotive (NYSE:PAG), had been rallying. Industry sales rose month after month as the economy improved, and the auto dealer group delivered over 30% average EPS growth for several years.
A broad-based recovery in auto sales was the underlying driver of this performance, as this chart of monthly sales from the Commerce Department shows: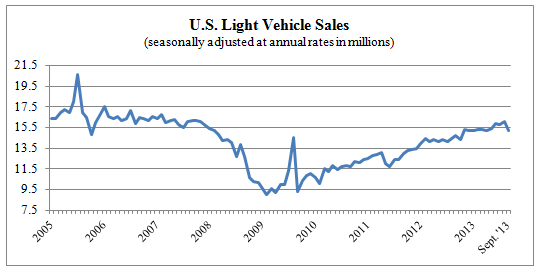 But nationwide sales stalled in September, falling 2.2%. Whereas seasonally adjusted annual sales were on pace to hit 16 million prior to September, they're not trending closer to 15.2 million.
As confirmation of the suspected drop-off circulated Wall Street last week, shares of auto dealers fell by an average of 6%.
But now that the government is up and running again, expect new car sales to recover from this slight setback. A few weeks of disruption in Washington doesn't change the fact that roads are still littered with cars averaging 11.4 years old. That's slightly older than last year's average age of 11.2 years, and well above the pre-recession high of 10 years old.
Once October and November sales are final, I expect we'll be tracking closer to that 16 million number than 15 million. My sentiment is echoed by J.D. Power & Associates, which recently stated that, while the shutdown hurt new-vehicle sales in the first half of October, "…the overall pace for the month remains slightly ahead of the running average for the year."
Household wealth and home values are still on the rise. And generally speaking, aside from the last six weeks, consumer confidence has been relatively high.  Consumers are still going to trade in their old cars for new ones.
The obvious way to invest in this car upgrade cycle is to buy shares in the automakers. While that is a straightforward option, I prefer to steer you toward auto dealers. That's because the dealers stand to benefit from more than just new car sales. They get a piece of used car sales as well.
And used cars often have much fatter profit margins than new cars. Sales of used cars will help to fill "gaps" in new car sales like the one that dealerships just experienced.
"The roads are littered with old cars. In fact, the average age of cars and trucks on the road in 2013 is 11.4 years old." Read more here: How To Play Booming Car Sales
"The most profitable opportunities usually lay beyond the headline stories." Read more here: Top 3 Unknown Shale Oil Discoveries