Relentless selling has sent pot stocks plunging for the past two weeks . . .
With the Horizons Marijuana ETF (TSE: HMMJ) shedding 32%.
That's why I'm rushing to host this Emergency Briefing: Navigating the Marijuana Stock Crisis
Click here to ASAP – it's free.
Now, I know some folks are panicking. Here are just a few comments from my Facebook group…
"I'm freaking out about the massive drops, even in Aurora and Aphria. EVERYTHING is doing a swan dive. I don't know what to do." – Ginger
"The entire market is crashing, not just weed stocks!" – Michael
"Another crap day for MJ stocks." – Rick
If you look at this chart, it's easy to see why people are scared . . .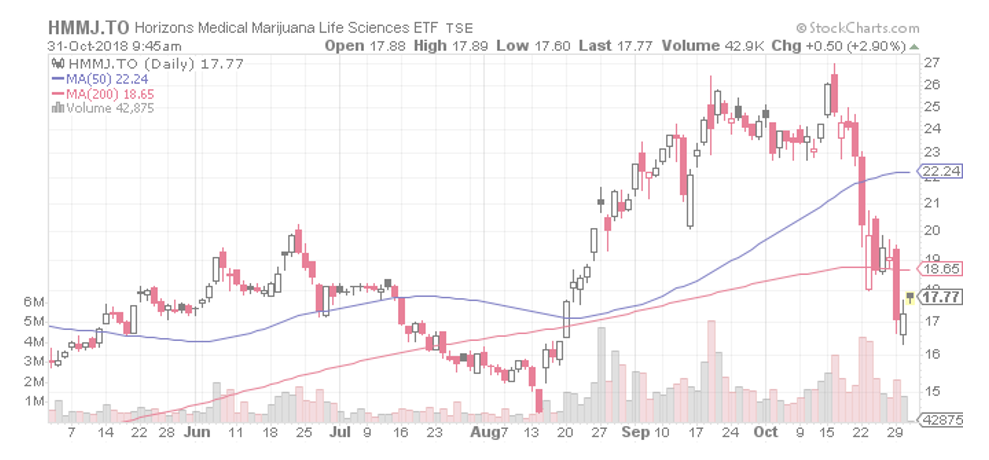 Pot stocks have essentially given up all their gains since mid-August. But the losses may be coming to an end . . .
Did Pot Stocks Just Hit Rock Bottom?
After two weeks of bloodletting, pot stocks are bouncing back this morning.
At 10:03 a.m., the Horizons Marijuana ETF was up 4.1%. Plus, many of the largest players were posting even bigger gains:
Cronos +5.8%
Canopy Growth +6.8%
Tilray +7.9%
Aphria +8%
Aurora Cannabis +9.2%
Volatility is back with vengeance.
Yesterday, I felt that the market was bottoming and quickly started buying pot stocks. In my personal investment account, I invested $43,871 in these eight pot stocks.
Today, you're probably wondering what's next for this market.
You know that it's growing from $9.7 billion to $100 billion within 10 to 12 years…
You know that Fortune 500 companies including Coca-Cola (NYSE: KO), Altria (NYSE: MO) and Diageo (NYSE: DEO) want to get in on cannabis . . .
You know that Canada is expected to sell $1 billion of cannabis within three months – and that the country is facing huge shortages . . .
And you know that on Nov. 6, four U.S. states could legalize cannabis.
Even so . . .
You're scared about the recent selloff . . . want to understand WHY this is happening . . . and most importantly . . .
You want to know what's going to happen NEXT.
That's exactly why I'm hosting this free Emergency Briefing.
It'll help you understand the Marijuana Stock Crisis – and what's ahead for the sector.
Just click here to RSVP for the LIVE webinar – and join me tomorrow at 12 noon  Eastern Time.
See you tomorrow,
Ian Wyatt