One cannabis drug maker just announced blockbuster results . . .
Including a 1,206% increase in quarterly sales!
Explosive growth in the sector is encouraging private cannabis stocks to go public ASAP.
Go here now for my top five "Stealth IPOs" for 2019.
Last June, the U.S. Food & Drug Administration approved the very first pharmaceutical using marijuana.
GW Pharmaceuticals (NASDAQ: GWPH) received approval for its Epidiolex drug. It's designed to help people with two rare forms of epilepsy.
The FDA-approval showed that the agency was willing to approve drugs made from cannabis. It authorized the cannabis drug in spite of federal laws that classified marijuana as a Schedule I narcotic.
Epidiolex sales have soared since the approval. And GW Pharmaceuticals' latest quarterly results reveal a booming business.
These undiscovered cannabis drug stocks could IPO within 90 days. Click here for my urgent briefing.
The company's quarterly sales surged to $39.2 million, a 1,206% increase over the last year. That was more than double the consensus analyst estimates!
GW reports that 7,600 patients have received Epidiolex prescriptions since the drug was launched. And 1,900 doctors have prescribed the drug.
Looking to the future, the company is preparing to launch the drug in five European markets by the end of 2019. And GW also has several other drugs in the Phase 1 – 3 trials with the FDA.
The outlook for GW Pharmaceuticals looks bright.
Analysts recently projected sales of $140 million in 2019. And that number will likely be revised higher – due to the robust first-quarter results.
Meanwhile, sales are expected to surge another 214% next year!
GW shares have been surging since the start of the year.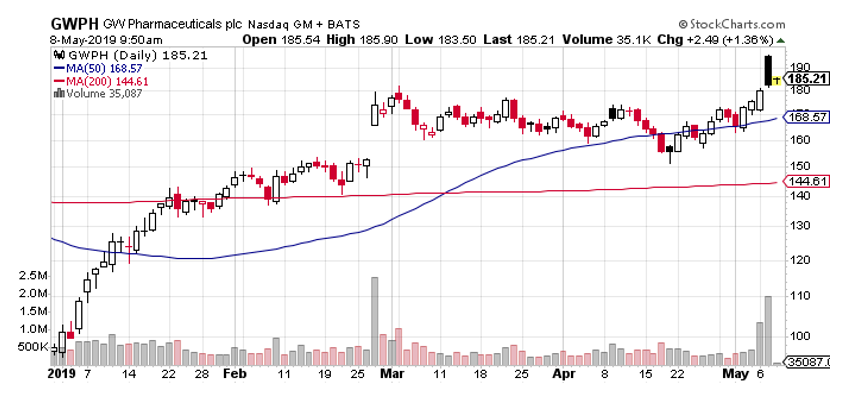 Oppenheimer & Co. responded to the strong quarter by upgrading the shares.
The new BUY recommendation reveals a $234 share price target – an increase from the previous target of $162.
The target price represents a 26% increase from the current price.
Meanwhile, analysts at a boutique bank called Stifel issued a $227 share price target.
The market for legal cannabis is growing. And new companies are branching out to serve medical, recreational and pharmaceutical markets.
The newest wave of "pot stock" IPOs is coming within the next 90 days.
Go here ASAP for my urgent profit briefing (it's FREE).
Yours in Profits,
Ian Wyatt