Imagine scooping up shares of this upcoming IPO . . .
That's set to dominate a special category of cannabis products.
Click here ASAP for today's profit briefing.
Unlike marijuana, hemp is 100% legal in all 50 states.
Cannabidiol – also known simply as "CBD" is a natural chemical from hemp. And it's now being used for a wide range of health benefits.
The market for CBD is absolutely booming.
Last year, U.S. sales of CBD products totaled $591 million. And that may seem large – until you consider the sales projections.
Cowen & Co: $16 billion by 2025
Forbes Magazine: $20 billion by 2024
Brightfield Group: $22 billion by 2022
That could translate into 3,623% growth in CBD products – within just four years!
Go here for my #1 CBD stock to buy now.
That's why the New York Times Magazine recently ran a cover story titled "Can CBD Really Do All That?"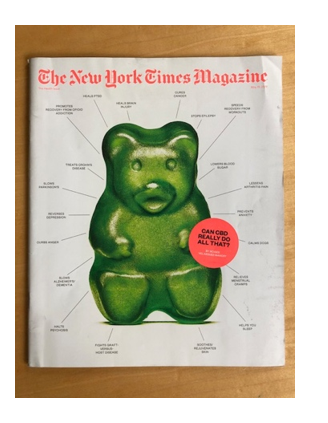 The article explains "How one molecule from the cannabis plant came to be seen as a therapeutic cure-all, fueling scientific trials, self-experimentation and a pop-culture craze all at once."
A recent survey from Cowen & Co. indicates that 20% of American adults have tried CBD products recently. Plus, another 7% use CBD on nearly a daily basis.
That translates into a market of 17.9 million Americans!
CBD products are now going mainstream with products carried at Amazon, CVS, Rite Aid, Kroger's, The Vitamin Shoppe and Walgreens.
Growing distribution means these new CBD products are easily accessible throughout the U.S.
In fact, revenues from CBD products are growing much more quickly that legal marijuana.
That's why I'm loading up on CBD stocks right now.
In fact, one of my favorite ways to invest is with an undiscovered Pre-IPO situation.
Right now, you can add your name to the IPO Priority List (just click here now).
Frankly, my projections suggest that early investors could quickly earn 460% profits.
That may sound impossible – until you realize that the company is being launched by three cannabis insiders.
These insiders have experienced huge success with pot stocks – including four IPOs within the last five years!
Just check out these previous winners:
134% in Plus Products
552% on Emblem Corp.
1,039% in Organigram
1,151% in The Green Organic Dutchman
Today, they're getting ready to take their fifth cannabis stock public in an IPO.
It's your chance to join them on the ground floor.
Just click here for today's urgent profit briefing (it's FREE).
Yours in Profits,
Ian Wyatt