Want to earn a quick $1,370 profit when The Walt Disney Co. (NYSE: DIS) reports earnings?

Here's the best part.
You do NOT need to own Disney shares. You do NOT need to predict the earnings results. And you could make money – even if the stock price drops!
Go here for step-by-step instructions.
Investors should be cautious on Disney shares prior to its quarterly financial report. Frankly, it looks like Cinderella's Castle might be getting a little run down.
On Feb. 5, we'll get an inside look at the company's business.
Analysts have cut their quarterly earnings estimates on Disney from $1.86 three months ago to $1.57. They're also predicting slow revenue growth of just 0.9% in the final quarter of the year, and just 1.6% growth in 2019.
That waning optimism is dragging Disney down; Disney shares are trading back where they started a year ago.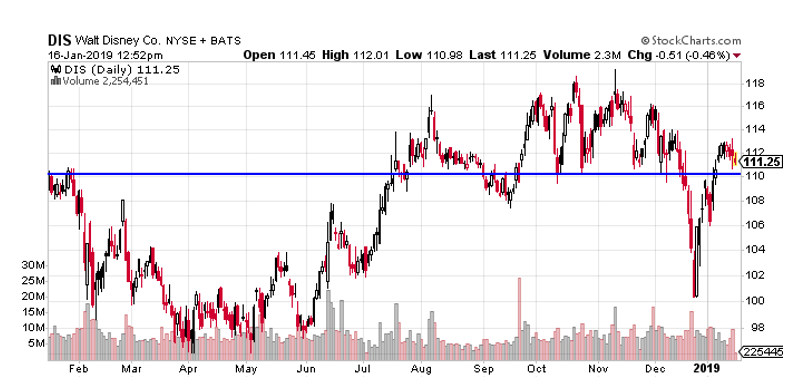 When you think of Disney, the first thing that comes to mind is movies. But its theme parks are one of its biggest sources of revenue, accounting for more than a third of last year's sales. And that business looks weak.
Disney was forced to lower ticket prices at its Shanghai park last year to boost attendance. That park's only two years old.
It's also had to bring back a deal for Florida locals, selling them a three-day pass for less than half the price tourists pay. Disney had stopped the discounting in 2016 as park attendance hit a record high.
Apparently, there aren't as many of us making pilgrimages to pay homage (and tribute) to a mouse.
Attendance may not be what it used to be, but Disney is still investing in expanding its theme parks.
Capitalizing on its acquisition of the Star Wars franchise, it's opening a themed expansion to its California park in June. Even as it's discounting admission in Florida, Disney is so confident in its California expansion that the company is raising the price of some tickets as much as 25%.
Click here for the next Overnight Trade Alert on Disney.
At the same time, Disney is burning up cash to launch its new streaming service Disney. However, there are concerns that this offering is late to the game.
Disney's streaming video service will be competing with Netflix (NASDAQ: NFLX) with 137 million subscribers and Hulu with 25 million members.
Disney hasn't announced how much a subscription will cost, but the CEO says it will be less expensive than Netflix. That's left some analysts wondering whether this new service will have much impact on the bottom line.
There's also Disney's proposed takeover of most of 21st Century Fox (NASDAQ: FOX). Announced in July, the deal will cost Disney $71.3 billion, but it's not done yet.
To appease the antitrust police, Disney had to agree to sell off some of Fox's regional sports networks. They would have been nice tuck-ins for ESPN (also owned by Disney) and a good way to bump ad revenue.
It's also having to dump Fox's European cable channels. None of the news channels were part of the deal, which also happen to be some of the top earners.
That's left analysts scratching their heads. And it's setting up for a downside surprise.
Now's a time to be cautious on Disney shares . . .
Unless you're using Andy Crowder's Overnight Trades (click here).
One recent trade on this stock delivered a $1,370 profit on Disney stock – in less than 24 hours.
Click here to discover the secret to Overnight Trading profits.
Yours in Profits,
Ben Shepherd