It's an absolute bloodbath out there for cannabis stocks.
One popular marijuana stock ETF has plunged 34% since mid-October. And it's not just this sector . . .
The S&P 500 is on the verge of a 10% correction.
That's why I'm organizing an urgent market briefing:
Bloodbath Millionaire: A Simple Profit Strategy for a Crashing Market
Click here now to RSVP (it's FREE).
Ever since Oct. 17, we've seen carnage among marijuana stocks. Here are three of the top players in Canada – and they're among the world's most valuable players.
Canopy Growth (NYSE: CGC): -44%
Cronos Group (NASDAQ: CRON): -46%
Aurora Cannabis (NYSE: ACB): -51%
Now, folks are trying to make heads or tails of the current situation. And they're asking . . .
"Is this market going to disappear? Did something change with the legal outlook in the U.S. market? Are these stocks overpriced – even after the decline?"
Are you scared about the marijuana stocks in your portfolio? If the answer is YES, click here now.
It's easy to look at this growth market in a vacuum. But it's crucial that you consider what's happening with the overall stock market.
Let's take a look at the S&P 500 (NYSE: SPY) index over the last three months. This index tracks the performance of 500 American blue-chip stocks.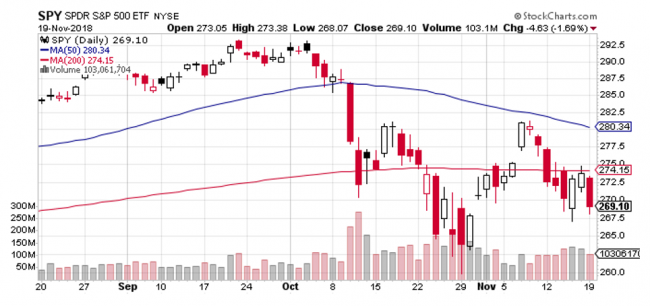 The market was humming right along . . . until early October.
That's when a combination of heightened trade tensions with China . . . fears of rising interest rates . . . concerns about several big tech stocks sent the market toward a 10% correction.
Now, take a look at that chart of the S&P 500 compared with the Horizons Marijuana ETF (TSE: HMMJ). This sector ETF tracks the performance of approximately 40 large cannabis stocks over the same three-month period.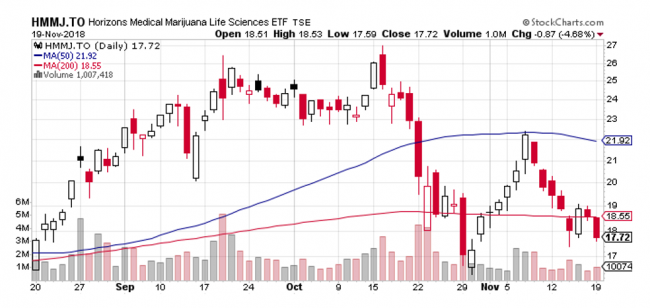 Look similar?
These charts are nearly identical.
You'll notice that the selloff for marijuana stocks lagged the S&P 500 by several days.
This is important – and shows that the overall market is taking down pot stocks. And not the other way around.
It's clear that the tail is NOT wagging the dog.
Click here to profit from the market bloodbath.
Why is this happening?
Because when the overall market is very close to a 10% correction,  investors quickly get very nervous.
When they're nervous, they start looking for stocks to sell. And they typically sell two types of investments.
First, they'll lock in gains on winning positions. This includes cannabis stocks – which jumped around 75% from mid-August to mid-October.
Second, they'll sell off investments that are perceived to be riskier. This includes cryptocurrencies, tech stocks, biotechs and even marijuana stocks.
Next week's urgent briefing reveals important details on what's next for stocks.
Go here now to confirm your spot (it's FREE).
Ian Wyatt