Millennials are entering their prime spending years, and how this young generation views stocks, the market and home ownership is going to begin making its impact. Many millennials are also asking themselves, is it time to buy a house? And can I afford it?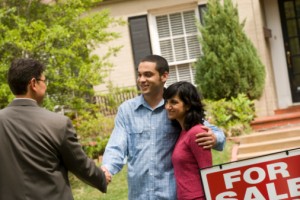 Millennials are the generation born between 1980-2000. It is a generation that has witnessed rapid change in technology and two stock market crashes (the dot-com bubble burst in the early 2000s and the financial crisis of 2007-2008.)  The two economic busts left the millennial generation uncertain about their own financial futures.  
The peak homebuying years are between 25 and 45 years old. The sheer size of the millennial generation should mean a peak in home sales and a good time for realtors. There are now even more millennials than baby boomers. Census records indicate 92 million millennials versus 77 million baby boomers.
After the housing collapse, many millennials witnessed their parents' homes foreclosed or layoffs. In the aftermath, it was uncertain if millennials were going to even want to be purchasing homes. They have often been pegged as a generation that is unwilling to settle down.
But, in fact, many millennials do want to own a home and think it is a smart decision. In fact, 30% of millennials said they plan to buy a home in the next five years, according to a survey earlier this year from Choice Home Warranty. But many others just don't think that they can afford home ownership.
The student debt crisis is not new news. It has a big effect on how millennials make their financial decisions. The graph below reveals the rate that student debt is increasing as their earnings fall.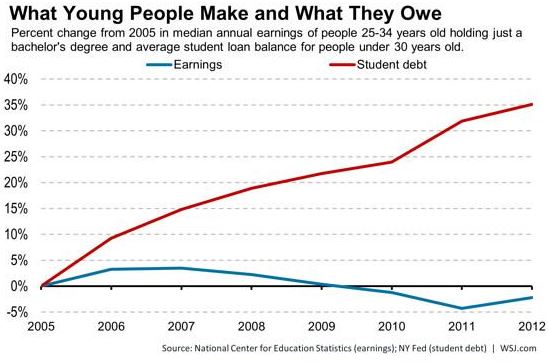 Average student loan debt upon graduation is a whopping $33,000 apiece.
Millennials are more educated, but also more likely to live in poverty than their 1980s counterparts, according to U.S. Census reports.
How Are Millennials Affecting the Housing Market?
Millennials made up 32% of the U.S. housing market in 2014, up from 28% two years earlier. However, the share of new homebuyers has also fallen to its lowest level since 1987.
The reality is that millennials are reaching the age to buy homes, but they are putting it off. The demand is there, but they simply can't afford it yet.
What does this mean? Millennials are hampering home prices.
There are an estimated 30% of millennials still living at home with their parents, according to the Census Bureau. However, this isn't due to joblessness. In fact, in most cases, this is a choice to help pay down debt.
There is also increased difficulty to rent. According to the Census Bureau, U.S. rental vacancy has hit a 21-year low. That means there is more opportunity for landlords to increase rents. In the past five years, typical rent jumped 15%.
Living at home is becoming more appealing to millennials if they want to be able to save up for a down payment. However, this increase in rental prices is also becoming a motivating factor for millennials to buy rather than rent.
Interest Rates on the Rise
The Federal Reserve has hinted that it will be rising interest rates this year, possibly as early as September.
This is also putting pressure on millennials who have been putting their homebuying decision on the sidelines. If you or someone you know is in this generation and are trying to decide if now is the right time, the answer is yes.
Housing prices are lower than they should be because of the sheer numbers of millennials that are putting off their homebuying decisions and living at home. However, most millennials want to own a home.
As student debt begins to get paid off, that large sector is going to be house hunting, so it's best to be at the front end of the trend while you can capture low housing prices and low interest rates.
This is making ordinary people rich
Ordinary people across America are getting insanely rich. Take Gladys Holm. She never earned more than $15,000 a year as a secretary. But by making one simple move, she was able to leave an $18 million fortune to a children's hospital when she died. There's many more just like her. Find out how they did it right here.