Big Pharma giant Pfizer (NYSE: PFE) is a company in transition. Since the loss of Lipitor, Pfizer sought growth from acquisition. This strategy has worked in the company's favor, as the company recently posted solid quarterly earnings.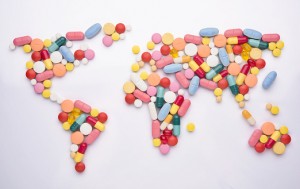 Pfizer isn't a hot growth stock, but what it does provide — steady growth and a high dividend — can be very valuable to investors in this volatile market.
Highlights in Pfizer Earnings

The Pfizer earnings report said fourth-quarter earnings were $0.53 a share, excluding non-recurring items, including costs from its acquisitions and restructurings. That slightly beat analyst expectations of $0.52 per share. Fourth-quarter revenue grew 7% to $14.05 billion, which beat analysts' average estimate of $13.56 billion.
A key contributor was Pfizer's vaccines business. Global vaccine revenue soared 45% to $1.92 billion, due to sales of pneumonia vaccine Prevnar doubling in the United States. Another factor was revenue from global oncology, which increased 52% in the fourth quarter, year over year.
Going forward, Pfizer expects 2016 to be another year of steady profits. The company expects earnings per share of $2.20 per share to $2.30 per share this year. While that would be relatively flat from last year, it's a good sign that Pfizer earnings can remain steady in a challenging economic environment. Pfizer's 2016 revenue is projected at $49 billion to $51 billion, up from $48.9 billion in 2015.
And when focusing on Pfizer earnings from its core operations, the results are more impressive. Excluding the $2.3 billion in negative impact from generic competition, and another $2.3 billion due to foreign exchange, Pfizer's core operational revenue is expected to grow in the mid-to-high single digit range.
Pfizer in the Post-Lipitor Era
Pfizer once had a gold mine in its drug portfolio in the form of Lipitor, its former flagship cholesterol drug. Lipitor was its best-selling drug ever, and accounted for $10 billion in annual revenue all by itself, as recently as 2010. Last year, Lipitor generated just $1.8 billion in worldwide sales. The reason for the decline is that Lipitor eventually saw its patent expire, which opened the door to a flood of generic competition.
Lipitor's fall from grace has been shocking, and has blown a massive hole in Pfizer's coffers that the company is still trying to fill. Rather than depend solely on its own pipeline to develop new products, which can be a long and very costly process, Pfizer's response has been to buy growth through mergers and acquisitions.
In the past year alone, Pfizer acquired Hospira, an industry leader in injectable drugs and infusion technologies, for $17 billion. But it made an even bigger deal with its $160 billion purchase of Botox-maker Allergan. The combined entity would allow Pfizer to move its corporate headquarters to Ireland, resulting in a significant tax break. The new company would be the world's largest drug maker, with combined annual revenue of approximately $64 billion.
Pfizer's Impressive Cash Returns
One of Pfizer's biggest strengths is that it is highly profitable. Pfizer raked in $7.7 billion in full-year net income.
With its impressive profits, Pfizer returns a great deal of it to investors through dividends and share buybacks. In December, the company raised its dividend by 7% and also approved a new $11 billion share repurchase program. That amounts to roughly 6% of Pfizer's current market capitalization, and as a result should be a meaningful boost to earnings growth going forward.
Pfizer stock offers a hefty 4% dividend. The company should continue growing revenue due to its massive acquisitions. There is significant potential for Pfizer earnings growth as well, resulting from expected cost synergies and the benefits of its stock buybacks. As a result, Pfizer looks like an attractive stock pick for income investors.
Regular Dividend Checks Every Month

Imagine having a regular stream of dividend checks arrive in your mailbox every month all year long. And knowing precisely when you'll be paid. Sounds incredible, but you can arrange this kind of security for yourself in just a few minutes.