It took just five years for a small Vancouver-based cannabis innovator . . .
To grow its market value from $30 million to over $20 BILLION!
Early-stage cannabis stocks are the only place to uncover these types of gains.
Go here now for top pot stock IPOs to buy now.
The company is Canopy Growth (NYSE: CGC).
The Financial Post reports that shares have surged an impressive 2,139% since going public in 2014.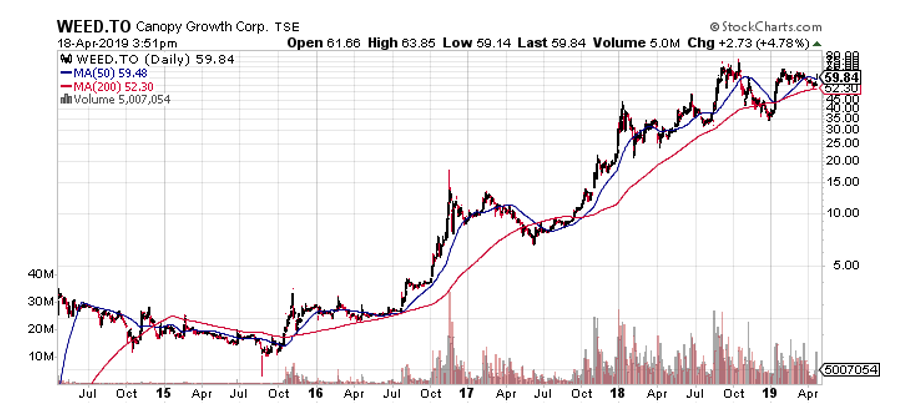 Canopy shares closed their first trading day at C$2.59. And yesterday the stock closed at C$59.81 on the Toronto Stock Exchange (shares of Canopy also trade on the NYSE).
Even a small $1,000 investment in Canopy has grown to $59,685!
Canopy was the sixth Canadian company to receive a license to grow and produce cannabis for medical patients. Back then the company was called Tweed.
The company didn't go public in a conventional initial public offering.
Instead, Canopy used a secret loophole called the "Stealth Crossover IPO." And shares started trading in Canada with little fanfare.
Since then, Canopy has become the blue-chip stock among cannabis companies.
The company operates 10 production facilities in Canada – with 4.3 million square feet of licensed space.
The company's leading position was solidified by a $4 billion investment from Constellation Brands (NYSE: STZ) last year.
Canopy's business has been surging – now that recreational use of cannabis is legal in Canada. Sales reached $83 million during the latest quarter.
URGENT BRIEFING: Access these top three pot stock IPOs for 2019.
Canopy is now expanding into the U.S.
In early 2019, the company announced a new initiative in New York state. Canopy will invest +$100 million in a hemp-processing facility.
Plus, this week the company announced plans to acquire Acreage Holdings (OTC: ACRGF) in a $3.4 billion deal. That deal will give Canopy a dominant position in the U.S. cannabis market.
Canopy Growth is an outstanding company – and a stock that I personally own. However, the stock's greatest performance is likely in the past.
The next big cannabis winners will be these new pot stock IPOs that are going public in the next three months.
Early investors who jump into these new stocks stand to earn a fortune. In fact, I'd bet that you've never even heard of these upcoming IPOs.
Here's the thing . . .
Folks who jump into these stocks on day No. 1 will earn the biggest profits.
These undercover stealth IPOs could create a cannabis cash tsunami in the coming weeks.
Go here now for my top pot stock IPOs for 2019.
Yours in Profits,
Ian Wyatt