Sam Zell earned his $5.5 billion fortune in real estate.
Today, he's unloading properties at a record pace and buying gold.
My just released special report reveals my #1 way to buy gold:
Click here to download the report (it's FREE).
Sam Zell got started with real estate in Chicago in the 1960s. And over the last five decades, he's built an American real estate empire.
Since 2017, Zell's Equity Group Investments has or is in the process of selling four real estate companies.
Plus, the he's planning to take a fifth real estate company public in an IPO (letting him sell shares in the process).
"The stock market, despite all the gyrations, is still at an all-time high. Real estate is priced to perfection," says Zell.
And he says there's too much capital chasing too few opportunities.
Five years ago, Zell took over a Chicago real estate investment trust called Equity Commonwealth (NYSE: EQC).
Since then, he has been aggressively selling properties. As a result, the company is sitting on a stockpile of $2.7 billion in cash.
In January, Zell told Bloomberg TV that he's buying gold.
"For the first time in my life, I bought gold because it is a good hedge."
FREE Report: Click Here to Buy Gold for Just $303 / Ounce
He points out that investment in new mines is nonexistent. Less investment means that new gold reserves are not being discovered.
In fact, gold reserves around the world have shrunk by 40% from the peak – due to less exploration activity by gold companies.
The industry is starting to go through a period of consolidation. And that's often a sign that the sector has bottomed out.
Eventually, the slowing pace of gold production could help send prices surging.
Gold is viewed as a safe haven during uncertain times.
In a bear market, investors sell everything. Blue-chip stocks, bonds, real estate and everything else drops.
Gold is the only asset that typically holds up. That's because it has been viewed as a "safe asset" for thousands of years.
Just take a look at the price of a popular gold ETF called the SPDR Gold Shares (NYSE: GLD):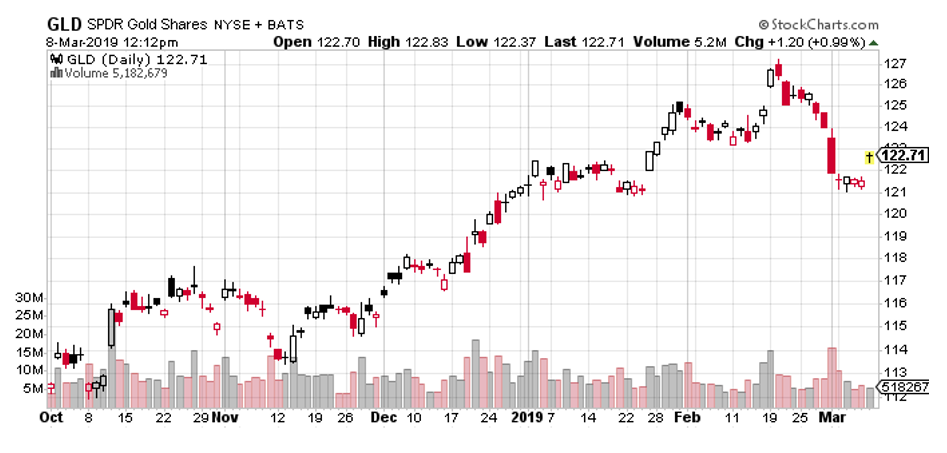 Since stocks started crashing back in October 2018 . . .
The price of the gold ETF is up 10%.
Sam Zell clearly wants to protect his wealth from the downside risk.
You can do the same. And you don't need to be a billionaire real estate tycoon to get started.
In fact, I'd love to send you my free report with my #1 gold trade.
Just click here now to download your gold report.
It reveals how you can secure gold for just $303.80 per ounce!
Yours in Profits,
Ian Wyatt