$100 billion: That's the proposed value of Uber – making the Uber IPO the biggest since Alibaba.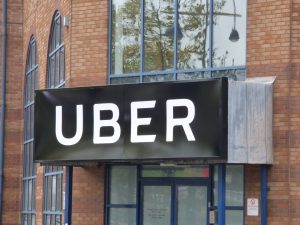 Uber just released these confidential IPO documents (click here).
Last year, Uber filed IPO paperwork with the Securities & Exchange Commission. Yet the company used a loophole to keep those documents out of the public view.
Now that Uber is in the final stages of going public . .
The confidential S-1 filing is released.
Go here for urgent details – inside today's FREE webinar.
Here's what we now know . . .
Uber plans to go public by the end of May on the New York Stock Exchange. And the company plans to have the ticker symbol "UBER."
Right now, Uber hasn't released an offering price or valuation.
However, it's widely believed that the company will go public with a market value exceeding $100 billion. And that the value could be as high as $120 billion.
The Uber IPO filing revealed important financial information. Investors will be attracted to Uber's rapid growth and large scale.
Last year, Uber's revenues grew 42% to reach $11.3 billion.
The company reported net income of $997 million. However, that number included income from the sale of assets. On a cash basis, the company's losses totaled $1.85 billion.
In the final three months of 2018, Uber revenues reached nearly $3 billion. Yet the company's losses totaled $1 billion.
The company is spending aggressively to pursue growth.
The balance sheet is healthy – with over $6 billion in cash. Plus, Uber plans to raise another $10 billion in an initial public offering.
In the coming weeks, we'll get Uber IPO pricing information from Uber's bankers.
Uber will be the No. 1 IPO for 2019.
Early investors in Uber stand to earn the biggest profits. These investors  include Jeff Bezos, Goldman Sachs, and Morgan Stanley, all of whom picked up pre-IPO shares.
Today your chance to claim pre-IPO shares of Uber.
My LIVE webinar reveals urgent details on this unique situation.
Instead of waiting for the Uber IPO roadshow and official public offering . . .
You can use a secret loophole to secure private shares – just 30 days before the Uber IPO.
In fact, you can use this same secret to claim pre-IPO shares of Pinterest – before next Thursday's IPO.
Yours in Profits,
Ian Wyatt