Stocks were on a tear in the first quarter as the S&P 500 surged 13.1%.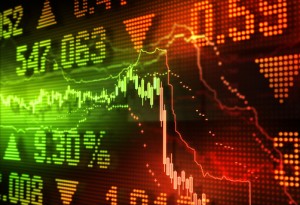 That was its highest quarterly jump since the third quarter of 2009.
Some worry that the party might be over.
We're not worried, though. Click here to find out why.
With first-quarter earnings season just kicking off, Wall Street analysts are predicting a 3.9% EARNINGS DECLINE.
If that prediction of weaker earnings is correct, that will be the first year-over-year drop in earnings since the second quarter of 2016.
The scary part is every sector has seen its earnings outlook cut. That means you won't be able to hide from weaker earnings in "safe" sectors like utilities or health care.
And it's no wonder analysts are pessimistic.
So far, 107 companies in the S&P 500 have issued earnings guidance and it's been, well, overwhelmingly bad.
According to FactSet, 79 of the 107 companies have said their earnings will miss the mark in the first quarter.
Companies that have said they expect weaker earnings include tech stalwarts Apple (NASDAQ: AAPL) and Intel (NASDAQ: INTC), toymaker Hasbro (NASDAQ: HAS) and oil major ExxonMobil (NYSE: XOM).
The good news is that earnings are expected to grow the rest of the year – but not by much.
FactSet estimates show analysts are forecasting low single-digit earnings growing:
1% in Q2
7% in Q3
3% in Q4
7% for full year 2019
It's possible the market will shake off the bad news and slowing growth.
The first-quarter earnings growth forecast has been steadily dropping for more than a year now. But as the graph below shows, the S&P 500 has just kept marching higher.
The more likely scenario is that things are about to get a lot more volatile. The next chart shows what happened the last time we had a dip like this in earnings.
The good news is, you don't actually have to worry about weaker earnings.
With Andy Crowder's Overnight Trades, it doesn't matter if earnings go up or down.
In fact, all Andy's system makes money regardless of whether stocks go up or down – they just need to be moving.
Be sure to join us April 4 and we'll tell you everything you need to know!
Here's to Profits,
Ben Shepherd