Gold prices fell again today, dropping 2.25% to $1,630 an ounce. The decline came on the heels of Monday's 2.83% fall, which sent gold below $1,680 for the first time in nearly two months. The price of gold has now fallen almost $300 since hitting $1,900 in September, and has dropped for seven consecutive days.
The increasing strength of the dollar is the reason for gold's precipitous decline – or at least the increasing weakness of the euro is. The uncertainty of the European debt crisis has destroyed the value of the euro and driven the U.S. dollar to its highest level since January. With the dollar stabilizing, the demand for gold has weakened considerably.
But how far will it fall? That's a question Barron's writer Michael Kahn pondered in an article titled "Gold's Last Stand". Kahn says that if gold prices fall below $1,600 an ounce "then the bears will have control" and perhaps send gold sputtering to its lowest level since before the U.S. recession in 2008.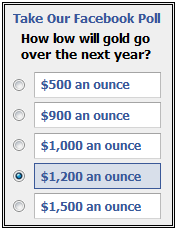 Still, as Kahn points out, gold remains above its 200-day moving average of $1,570 an ounce despite its recent freefall. The price of gold is still up 24% from its February low.
Wyatt Investment Research commodities analyst Kevin McElroy remains "long-term bullish" on gold. In a Daily Profit article he wrote last month titled "How Low Could Gold Go?", Kevin said that gold prices could drop to as low as $1,200 an ounce in a worst-case scenario. That would rival past draw-downs of more than 30% in 2008 and in the mid-1970s.
"These moves are rare – but not unheard of. And they're a little scary," Kevin wrote, "but not terribly harmful."
At least not if you're a patient investor.