You've likely noticed plummeting gas prices at your local gas
station and connected the dots with crude oil's plunge from $105 a barrel
to $81 since early April.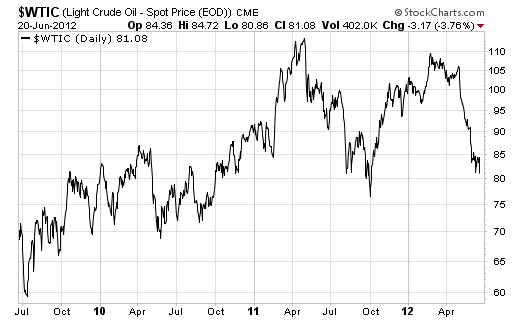 No doubt, the relief at the gas pump has been nice. And in large
part the decrease in crude oil's price has been seen across the board in
other commodity markets as well.
The Morgan Stanley (NYSE:MS) Commodity Related
Equity Index tracks shares of 20 companies involved in everything from
energy to agriculture to forest products. While the drop in oil has been
swift and sudden, this index has been on the downswing since mid-2011, as
this three year chart shows.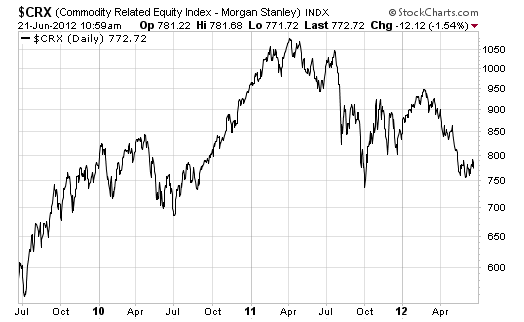 One common element between these two charts is that they are both
reaching their October 2011 lows – a major technical support zone that
could mark the turnaround point for many commodities heading into the
second half of 2012.
Granted, this is just a technical level, but put it together with
three factors that led Goldman (NYSE:GS) to recommend
"stepping back into the [commodities] markets" and the case for
commodities now gets stronger. Paraphrasing Goldman's latest Commodity
Watch:
1) Policy tends to lead change: In just the last few
weeks China, Brazil and Australia have all cut rates, and in the U.S. the
Fed has announced it will extend operation twist. Accommodative action is
typically bullish for commodities prices.
2) Commodity prices have underperformed: As the charts
above show, commodities have been hammered. Especially compared to other
asset classes commodities now represent excellent opportunities and
Goldman believes they have been pushed below fair value.
3) Global fund managers are under-allocated to
commodities: Data from BofA Merril Lynch shows that fund managers are
underweight commodities, at a level not seen since 2006, 2008, and
October of 2011. Instead, they are overweight technology, pharmaceuticals
and consumer staples. Once this discrepancy reverses, there could be a
major surge in commodities.
Put it all together and Goldman is calling for a near 30% rally in
commodity prices over the next 12 months.
The message for investors is that you might want to consider
increasing your allocation to commodity-related equities before
fund managers follow suit.
One way to get specific advice on what to buy is to watch my
presentation,
Grab These Commodity Profits, tonight. During the presentation I'll get
into more details of why natural resources represent a must own asset
class, and I'll give you a chance to get my top three commodity-related
stocks for 2012, all of which are dominant, dividend paying
companies.