An impending oil rally is good news for copper investors.
As our own Ian Wyatt wrote earlier this week, an oil rally is under way after a steep two-month decline. West Texas Intermediate Crude declined 26% in May and June. This month, however, oil prices are already up more than 8%.
It's no surprise, then, that copper prices are also climbing. Copper has jumped 2.5% since June 28 and nearly 4% since June 21 – right around the time this current oil rally began.
Why is there such a strong correlation between the two? Because copper and oil have many similarly aligned uses. Like oil, copper is used in power generation and transmission, industrial production, and transportation vehicles.
Copper is an essential component in heating and cooling systems, radiators, motors and piping – all of which also usually require oil. Like oil, copper is used extensively in the construction industry.
So when new homes are being built, demand for copper and oil goes up. Conversely, when times are tough copper and oil prices plummet – as you can see from their almost identical declines during the recession of late 2008 and early 2009.
History tells us that copper almost always moves in tandem with oil. Take a look at this 20-year chart of the two commodities: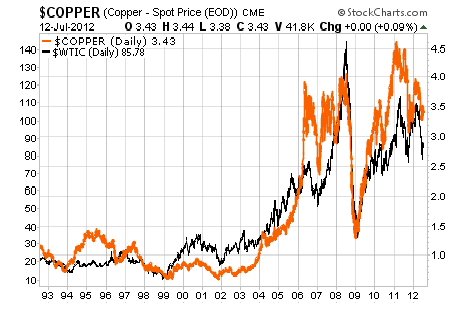 In recent years, copper has actually performed a bit better than oil. Since 2005, copper's highs have been higher than oil's on a percentage basis and its declines have been smaller.
Oil will likely head back above $100 a barrel soon enough. Global demand is simply too great for it to stay as cheap as it's been the last couple months – especially with supplies dwindling and the cost to extract it increasing.
So if the last 20 years tell us anything, copper prices will almost certainly rally along with oil. That means the perfect time to invest in copper is right now – while the rally is just getting started.
The best way to play the rally is to either load up on physical copper or, more likely, to buy shares in stocks like Freeport McMoran (NYSE: FCX) – the world's largest copper miner and a company that has been significantly beaten down for the better part of a year.
At $32.80 per share at the moment, Freeport is just a few dollars more expensive than its 52-week low and is trading at little more than 8 times earnings.
That's cheap. But with the oil rally under way, nothing related to copper is likely to stay that way for long.