For the last two years, I've been trying to get my boss Ian Wyatt interested in a group of commodity stocks that pay dividends over 4% – and in some cases over 6%.
And to be fair, these stocks are kind of boring.
But when it comes to financial analysis, boring is good. Boring means simple. And we can understand and analyze simple companies. We can know down to within a few dollars of what their assets are worth, how much they're likely to pay in taxes, what their profits and losses will be.
And we can know if a simple company with easy to understand income streams will be likely to keep paying (and growing) their dividend.
I've written about these simple commodity investments before – and I'm willing to bet that, like my boss, you read my editorial and thought to yourself, "Yeah, that sounds pretty good. I'll have to pick up some shares sometime."
And while you may jump on the chance to buy an exciting small cap energy stock, or a high-flying junior gold exploration company – I'm willing to bet that you didn't buy shares of this group of companies the last time I brought them up.
If you believe that small cap gold and oil stocks have the potential to make you vastly wealthier in a very short period of time, you're correct.
But the fact is, you're not likely to find a better long term holding in the stock market than.timber companies.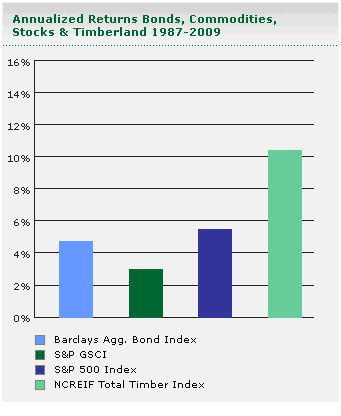 As I wrote back in July of this year: "…timber is one of those long term investments that can reward your portfolio in good times, and protect it in bad.
That's because timber literally grows on trees. Most timber-grade trees grow an average of 6% per year – which means that every year you don't cut them down, they're worth about 6% more.
That's real growth you can count on – because while we can't say for sure what will happen with the world economy, we can probably safely say that trees will keep growing, and timber will be in demand…"
The two best timber companies I've found are Plum Creek Timber (NYSE: PCL) and Potlatch Corp. (NASDAQ: PCH).
I first recommended buying shares of Plum Creek almost exactly a year ago:
"I'd recommend nibbling at shares under $35, which is a slight discount to today's prices, but I think patience will be rewarded."
If you were patient, you had several opportunities to pick up shares under $35. Couple a $35 buy price with a trailing dividend yield of 4.5%, and you'd currently be sitting on at least 9% gains on the year.
Not too shabby.
Today, my advice is the same. And it will likely be the same next year. Timber isn't going out of style over the long term. Think of timber investments as the blue jeans of your portfolio.
As for Potlatch, I'd look to pick up shares under $33 – and collect that 6.5% dividend.
The short term upside for both of these companies is any strength in the housing sector. Right now, housing is about as hated and dismissed as any asset class – and rightly so, but eventually that trend too will revert to mean – and timber investments will benefit.
I hope you'll take a small part of your portfolio and consider timber investments for a long term holding – because I know you'll make out just fine. Yes, it's boring – but boring is good!