A company for boom or bust

They sell copper AND gold

Strong profits during the worst market in five
years
If you were in Las Vegas, it would be cheating to bet one
chip on two numbers of the roulette wheel.
They'd kick you out of the casino after taking your money
and maybe roughing you up a little.
But today I'm going
to reveal to you a publicly traded company that should benefit from boom
times as well as bust. It's a way to put one poker chip on two numbers of the
roulette wheel at the same time. And it won't get you kicked in the
ribs.
My prediction is that we're headed (or already in the midst
of) a severe recession or depression. But I've been wrong before – and even
if I'm right on the trend, I could be wrong on the timing or the scope – or
any number of other factors that might derail my investment thesis.
I'm okay with being wrong, especially because I'm prepared
for the eventuality.
If you're not prepared for the eventuality of a market that
runs counter to your expectation, then you're simply not prepared.
As you know, I'm somewhat partial to commodities, so if I
were to design a company that would profit during good times and bad, I would
look for a firm that was more or less equally hedged between two commodities:
copper and gold (and silver).
To gloss over the
obvious:
Copper is the boom-time commodity. When things go well in
the economy, businesses need more copper to build homes, cars, electronics,
and infrastructure.
Gold is the bust-time commodity. Recessions, depressions,
currency crises, and general malaise raises the public's desire to own the
safety and reliability of the yellow metal.
And lucky for us, such a company exists.
This company has estimated copper reserves worth over $300
billion.
It has gold and silver reserves worth over $55
billion.
It also has molybdenum (a metal used in making steel and
other heat-intensive alloys) reserves worth over $30 billion.
Today, this company has a market cap of just $33 billion.
Each share costs $72, which gets you about $70 worth of molybdenum, with $100
worth of gold and silver, and $600 worth of copper thrown in for free.
If you're bullish, this company is one of the largest copper
miners in the world. If you're bearish, they have healthy precious metal
reserves.
If you want a two-for-one hedge, they have both.
I'm talking about Freeport-McMoRan Copper and Gold
Inc. (NYSE: FCX).
The best part is
that this company has extremely robust profit margins. Their net profit
margin for 2009 was 18%. That was during a period of time that copper prices
plunged through their five year lows, and stayed there for most of the
year.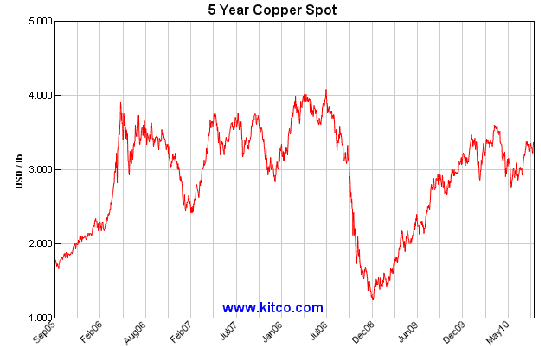 They still managed a substantial profit margin – thanks in
part to their ability to bring gold, silver and molybdenum to market.
That's the kind of company I want to own. It provides a
level of certainty rarely found in any market, bull or bear.
Today, Freeport McMoRan sells for less than 10 times
trailing earnings. I'd recommend buying this company under $80 a share.
Understand though, this company is a hedge. It's not going to double or
triple your money anytime soon, but it will protect your capital in the event
of boom times or bust.
Good investing,
Kevin McElroy
Editor
Resource Prospector
disclosure: no positions in Freeport McMoRan as of this publication