I'm back in Vermont from my trip to the annual mining conference hosted in Toronto by the Prospectors & Developers Association of Canada (PDAC).
And I've come back to notice that the worst natural gas investment I've ever seen has once again defied all odds, and again fabricated a way to help its investors lose more money.
I'm talking about the United States Natural Gas Fund (NYSE: UNG).
Twice now, the fund has come close to falling BELOW the listing requirements of the New York Stock Exchange, and twice, the fund has been allowed to reverse split its shares. About a year ago, the fund did a 1-for-2 reverse split, which effectively took every two shares and turned it into one share, which doubled the price of each unit.
Then again – just last month, the fund was headed dangerously close to the NYSE listing minimum price – and this time it reverse-split shares 4-for-1!
The result is that the stock is now listed for just under $18. If you look at a five year chart of UNG, you can see the destruction of what is quite possibly not just the worst natural gas investment of all time, but also one of the worst performing ETFs of all time and one of the worst investments of the past five years that's still actually listed.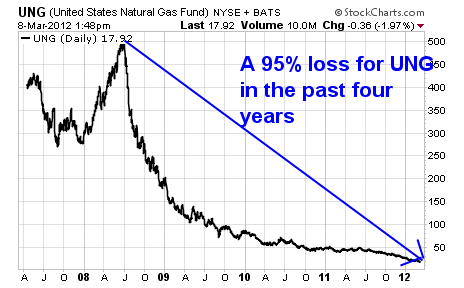 The reverse-split will mean that this ETF can now drop even lower still, until such time that it drops below $5 again, and either gets delisted as it falls below $3 a share -which I suspect it will.
Eventually this ETF will get de-listed – but until then, the only way to make money on it is to buy puts at the money.
Otherwise – just avoid it.