Do you hear that? No one is talking about silver.
Which is amazing – considering that silver prices jumped over 16% during this month alone.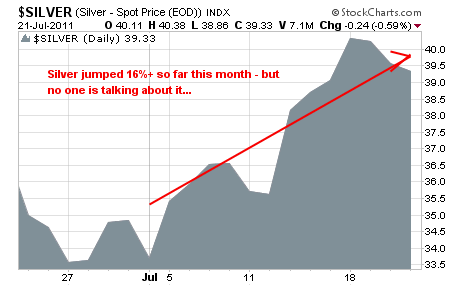 Since it's Friday, and even up here in Vermont it's supposed to get close to 100 degrees – I thought I'd treat you to a sample of some research on a silver stock that is usually relegated to paying subscribers of our oldest publication: SmallCap Investor Pro.
My colleague Tyler Laundon put together what I consider to be one of the best research reports on silver investing – full stop.
Tyler prefers investing in Meixcan silver companies. And you might be thinking that Mexico is a risky place to invest, but the fact is, Mexico is a silver mining Mecca.
Today, one of the best performers in the SmallCap Investor Pro portfolio is a small, Mexican silver mining company called Endeavor Silver (NYSE: EXK).
Small Cap Investor Pro subscribers are currently sitting on 218% gains on Endeavor – but Tyler thinks Endeavor is headed higher.
Here's what he has to say:
"Endeavour has established a proven track record of acquiring productive assets, developing them (or re-opening them) and then expanding production. It's exactly what we look for in a developer.
It's also shown skill at purchasing the right assets, a critical component when one considers how much it costs to build a profitable mine.
The Guanacevi region is a veritable silver hotspot, nestled in the heart of the famous Sierra Madre Occidental silver-gold belt. The silver was first discovered in 1535, but it wasn't until Endeavour acquired its interests in the Santa Cruz mine and Guanacevi process plant in 2004 that investors could access the region's reserves.
Endeavour is also winding down a major phase of capital expansion at its two producing silver mines, so costs are falling. Total 2009 mine development investments were around $18 million, followed by an additional $18 million in 2010.
In 2010, $12 million more went toward equipment, cone crushers, and other projects – all of which help expand capacity.
These investments meant cash costs fell to $5.71 per ounce, a price that management believes will hold in 2011. This means that it costs Endeavour just $5.71 to mine an ounce of silver, and as the price of silver rises this cost stays the same. This is why silver stocks like Endeavour have excellent leverage to rising silver prices.
The really attractive thing is that the company's average selling price in 2010 was only $19.62. Given that nearly 5 months into 2011 silver has only been below $30 for one month, it's reasonably safe to assume that Endeavour will post significant revenue growth this year.
The company's own guidance is to increase revenues by at least 30 percent, to $114 million. That assumes it hits its target of 4.7 million ounces of silver equivalent mined (includes gold credits), and an average selling price of just $24.
I think it's a safe bet that Endeavour will surpass these numbers, and most analysts agree. The current consensus revenue target is $130 million.
This company has a history of improving on the most important metrics, and I believe it will continue to execute in the future. It is sitting on $100 million in working capital and is debt free. It also turned in its first year of profitability in 2010, delivering earnings of $0.10 per share.
My price target is $13.60 – an additional 23% from today's share prices."
In full disclosure, both Ian Wyatt and Tyler own shares of Endeavor Silver in their personal portfolios.
So, Endeavor is only part of the story.
Tyler's full research report details two other companies in the silver-rich Sierra Madre region of Mexico.
Today, you can take a look at this research by taking a risk free trial to Small Cap Investor Pro.
Click here to read more about Sierra Madre silver – before silver hits the headlines again.