Now is the time when precious metals investors will need to do the most important thing to ensure that they can profit over the long term.
They must do nothing.
Or at least, don't sell.
I received an admittedly panicky email from a subscriber this morning asking if now is the time to sell silver.
Chuck G. wrote in to ask,
"Hi Kevin,
HELP!!!
I have XXXX shares of SLV. What should I do now. Sell? Or Hold?"
I know that Chuck probably isn't the only Resource Prospector reader who feels a little panicked.
Silver dropped over a dollar this morning, and it's down almost 30% from just a few months ago.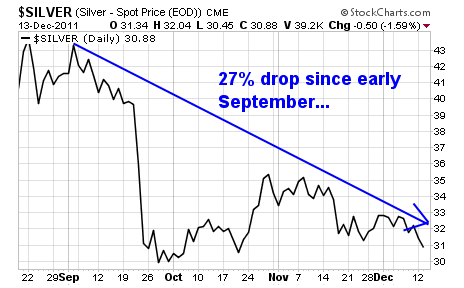 That's a significant drop – even for the tumultuous silver market. I've long said that silver is the single most volatile commodity.

But am I selling?
No. And I actually did buy some silver back in August at around $41.
Can silver fall further?
Yes. But at this point I'm more or less disinterested by this kind of selloff.
Especially since I expected this to happen sooner or later. You see, the whole reason silver is dropping right now is because of the dollar.
It has nothing to do with the silver market, or the end of the commodity bull market or anything like that.
This silver selloff lines up exactly with the dollar's current rally.
You can see this phenomenon pretty clearly in a chart plotting both silver (in black) and the US dollar index (in green).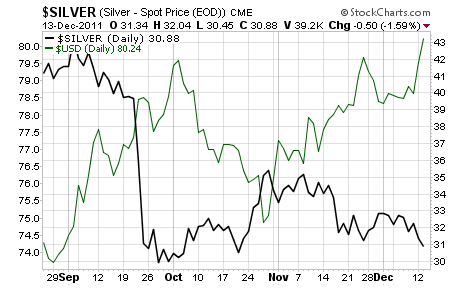 The dollar rallies, and silver falls. The dollar falls, and silver rallies.
The dollar also affects stocks, bonds, real estate, oil – you name it. When there's a big move one way or another in the dollar, you can bet your bottom dollar that the price of everything dollar denominated will move inversely.
Okay, so if that's not enough logic and reasoning to talk you off the ledge, consider this:
Silver (and gold) are extremely oversold.
Our resident options expert, Andy Crowder says so too. He also says that it's likely silver will test the $27.41 level last seen in January of this year.
My advice: use this weakness to add to your silver positions.
Or just do nothing. My long-standing prediction is for silver to break $100 an ounce. I stand by that prediction. So in my view, selling today would be a bad mistake.
Good investing,
Kevin McElroy
Editor
Resource Prospector