Last January I put together a brief write-up on my "favorite stock of 2012."
Not surprisingly, it was a company that's heavily involved in commodities. The good news is that this company is still super cheap and it's still my favorite way to invest in the commodity boom – if you have to buy just one company. That's kind of a ludicrous scenario, but every commodity investor has to start somewhere.
I'm talking about Freeport McMoran (NYSE: FCX).
My reasons for owning it today are basically the same that I gave last year, when I wrote:
"Freeport McMoran currently has more superlatives than a high school yearbook.
"It's the biggest copper miner in the world.
"It owns the mining rights to three of the world's largest copper mines – one in Utah, one in Indonesia and one in South America.
"According to the 2011 Forbes 2000 list, Freeport is the also the highest-ranked gold mining company.
"Forbes ranks companies based on sales, profits, assets and market value – so Freeport beat out market favorites like Gold Corp (NYSE: GG), Barrick Gold (NYSE: ABX) and Newmont Gold (NYSE: NEM).
"Even better: Freeport currently trades for less than 10 times earnings, and they pay a 2.2% annual yield.
"Even for a big boring mining company, 10 times earnings is cheap. The entire sector is cheap now too – with the average PE ratio just above 10.
"Of course, underscoring my enthusiasm for Freeport is my thesis for higher commodity prices – yes, even copper."
Fast forward to today, and the story looks about the same. Freeport is a bit more expensive on a trailing earnings basis, but the dividend is better on a yield basis.
The commodity story is even stronger.
Freeport's main export is copper – and China has resumed its copper demand in a big way. China's copper imports are at a five-year high. Even if their imports slacken, that puts a huge dent in available inventory. Additional copper will need to be mined, and Freeport (as I noted) is the world's biggest copper miner.
You might be inclined to point out that if you had bought Freeport last year when I said to, that you're down a few percentage points. The truth is, Freeport isn't a trade. It's a long-term commodity holding that should be a centerpiece of any commodity investor's portfolio.
If you're looking for quick gains then by all means, ignore what I have to say about Freeport. But if you're looking for long-term growth and gains (with some side income thrown in) then Freeport should be on your radar.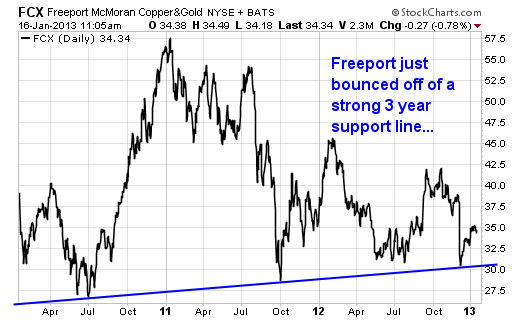 Today, Freeport just resumed an uptrend after bouncing off 52-week lows and a three-year support line.
I can't think of a better entry point if you're looking to add to or initiate a position.
Freeport isn't going anywhere. If the price is even lower next year, I'll be surprised, but when you get a chance to buy a trophy copper producer off of 52-week lows when it pays a 3.6% dividend, you should be pretty thrilled – even if you're sitting on a small loss on it.