Smith & Wesson (NASDAQ: SWHC) and fellow gun maker Sturm Ruger & Company (NYSE: RGR) rose today despite new gun control laws proposed by President Obama.
The president outlined a series of gun control regulations, including a ban on large magazines and universal background checks for any gun buyer.
Nearly 40% of gun sales take place without background checks. So Obama's new gun control proposals could lower gun sales.
Though the potential for lower revenue did not hurt the shares of SWHC or RGR today, that shouldn't imply these are good stocks to buy. In fact, SWHC may be on the verge of a large pullback.
The shares recently fell below the support of a long-term trend line (blue). The lack of support in December may signal that buyers will let the shares fall further before stepping back into the stock.
Moreover, volume spiked as the shares lost the bullish trend line (arrow). This indicates that sellers massively overwhelmed buyers. Because volume was so high, it also stands to reason that selling pressure will intensify as the shares rise back up to the $9.50 zone. It could become a difficult resistance area, keeping a lid on price appreciation.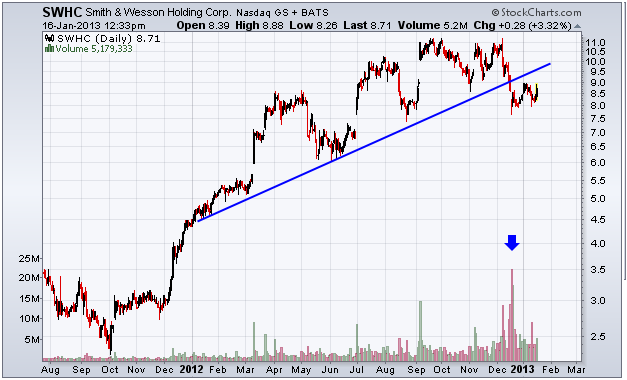 This chart shows the price of SWHC shares along with an important broken trend line to monitor.
Though the two gun manufacturers posted gains of more than 4.5% following Obama's speech, the pop could be short lived. SWHC in particular may turn lower as the shares approach a challenging resistance area.
The $8 level has supported the stock well during the past month. However, if that support zone fails, a drop to the next support zone at $6.50 may occur.
Equities mentioned in this article: RGR, SWHC
Positions held in companies mentioned above: RGR, SWHC